Liposuction (for men)
Southwestern TX Liposuction for men has never been easier to achieve! Now men who have stubborn areas of fat in their abdomen, chest and other areas can achieve amazing results from having liposuction. Although liposuction can be experienced by both men and women to target specific problem areas, the men who typically come to Dr. Agullo for liposuction are those who have tried to lose that "spare tire" or tone up their abs through traditional methods of exercise unsuccessfully.
Dr. Agullo is experienced in many different types of male liposuction procedures and can help you get rid of those love handles once and for all!
Is male liposuction right for me?
If you are considered a pretty healthy guy and in reasonably good shape, yet have stubborn fat that just won't go away due to genetics or aging, liposuction can be a great solution. This is also called "suction assisted lipectomy" and falls under the category of body contouring as a cosmetic surgical procedure.
The process of liposuction is very common and has evolved as one of the most popular forms of technology in today's health industry, making it safer and easier than ever to achieve dynamic – and often dramatic – results as an affordable cosmetic shaping solution. Some men have a genetic predisposition to store more fat in their abdominal region, just above and around the midsection of a man's body.
Liposuction is very effective in contouring, smoothing out cellulite and shaping the body for noticeable results. You can get rid of unwanted belly fat in this straightforward outpatient surgery and will soon be on your way to the beach or donning tighter fitting shirts and pants in as little as a few weeks after receiving the liposuction for men procedure. Liposuction is considered very safe and most men will be pleased with the results.
Liposuction techniques for male enhancement
The new technologies offered in recent years have made liposuction more available to men and women. These remarkably innovative tools have resulted in greater precision, quicker recovery and with the least amount of discomfort to patients. Dr. Frank Agullo applies modern liposuction techniques to enhance, eliminate fat, smooth, and contour areas of the male body. He holds a double board certification in both plastic surgery and general surgery, serving patients throughout El Paso, Juarez, Chihuahua, and Las Cruces with advanced liposuction expertise.
Dr. Agullo uses 3 main liposuction techniques, including:
Tumescent Liposuction: This is the most common liposuction procedure. Each doctor has their own style or technique, but tumescent liposuction basically zeroes in on targeted fat stores. An anesthetic liquid injection is applied to the targeted areas, which causes swelling and enables the liposuction tool to travel easily just under the skin while suctioning the fatty deposits. Without getting too technical, the use of cross-tunneling and mesh-undermining can be done to blend the areas and achieve a contoured appearance. Patients may experience less bruising, blood loss, swelling or tenderness with tumescent liposuction.
Laser Assisted Liposuction: "SmartLipo" came to be publically available in 2007 and was the first FDA-approved laser technique. It is typically used in conjunction with tumescent lipo as another step to the process, except a laser fiber replaces the need for a traditional cannula (the suction piece) to be used. The laser melts the fat away and liquefies it, whereupon the cannula will be used to remove it. An advantage of SmartLipo is that it can contract the skin to target areas of the abdomen, neck, arms and beyond.
Ultrasonic Liposuction: One of the most revolutionary liposuction techniques to hit plastic surgery facilities is the "Vaser". It uses ultrasonic liposuction (aka – "ultrasonic assisted liposuction" or UAL) to disrupt the cellulite with sound waves. Fibrous fat stores such as gynecomastia, belly fat, upper back fat, neck, arms, love handles or even facial fat can be done successfully using UAL liposuction. You can get rid of a double chin or belly flab with this awesome Vaser ultrasonic liposuction procedure.
Liposuction techniques vary between every patient. Some men have a lot of problem areas, whereas others just have one specific point they need help with. You will not know which liposuction technique will be used until you have a chance to meet with Dr. Agullo for a consultation.
What will my El Paso liposuction surgery entail?
Nearly all liposuction recipients can expect to be under local anesthesia or general anesthesia. Liposuction is often treated as an outpatient visit, unless the surgery is extensive and may require an overnight stay at the hospital if this is the case.
In general, liposuction is thought to be one of the least complicated plastic surgery procedures and has surpassed all others as the most popular form of plastic surgery. You can expect minimal scarring (or for some you can barely see anything) and few complications associated with male liposuction.
If you are a smoker, you should quit smoking any tobacco products at least two weeks prior to liposuction and for two weeks after the surgery. Smoking makes healing take longer and may result in scars, surgical revisions, strokes, or blood clots in worst-case scenarios.
Get ready for your liposuction surgery by following these guidelines:
Never eat or drink after 12:00 a.m. on the night prior to surgery, as this can lead to nausea from the anesthesia and can even be dangerous.
Don't shave the areas of your body that will require liposuction at least a day before the surgery, as this will open up pores and make them susceptible to infection.
Have a relative or close friend drive you to and from your outpatient surgery.
Stock up on medical necessities such as gauze and bandages, Neosporin, peroxide and ice packs.
Don't forget to ask for some time off from work. Your doctor will tell you how much time is needed, based upon your personal situation.
You will probably not remember any of the surgical procedure while you are sedated. It could be a simple procedure that takes only a few hours to perform, or it could be longer depending on how much fat you need to have removed. It is likely that you will have some swollen areas, soreness or even pain after liposuction, but this is normal and not usually something to worry about unless it feels serious.
Keep moving, walking and doing some activities to keep the blood flow going smoothly. Your individual liposuction success will depend on your own body shape, build, size, skin elasticity and other determinants.
After liposuction, you will start to feel better in a couple of weeks. You may feel more lightweight and smoother in the targeted areas. Depending on whether your liposuction is combined with other procedures, your healing time may be fast and relatively uneventful.
Are there any risks with liposuction surgery?
Most of the risks associated with liposuction are in patients who receive the general anesthesia or who try to do too much liposuction within a short amount of time. It can be dangerous to do multiple liposuction procedures in one sitting, so if you need more than one session then this is something to discuss with the plastic surgeon.
Everyone's body has its own limitations as to the amount of trauma that can be processed with cosmetic surgery. Liposuction can be divided into smaller, targeted sessions over the course of a few weeks, rather than all at once. Rare risks of liposuction may include:
Infection
Blood clot in lung – also known as pulmonary thromboembolism
Edema (swelling) of treated areas
Nerve damage when leaking of serum takes place
Complications from anesthesia, which is more likely with general anesthesia than IV sedation (local)
Liposuction is thought to be lower risk than many other types of surgery, although it is important to consider these things prior to any type of surgical procedure and to weigh the benefits. Most people consider liposuction to be safe enough, especially since the introduction of many innovative lipectomy tools to make it even better.
El Paso liposuction costs
Liposuction for men in Southwest TX can be anywhere between $3,000 to $7,500, depending on the type of liposuction procedure and the weight, size and shape of the individual. Although male liposuction is not recommended for weight loss, this happens to be one its main benefits.
Millions of men and women seek liposuction, either combined with other plastic surgery procedures or as a standalone cosmetic enhancement to target specific parts of their body. Doctors enjoy the versatility of liposuction as an effective measure in treating isolated areas and even to correct common health problems.
Dr. Frank Agullo is a Clinical Associate Professor of Plastic Surgery at the Paul L. Foster School of Medicine; Texas Tech University Health Sciences Center and an Affiliate Professor at the University of Texas at El Paso.
Schedule a consultation with Dr. Frank Agullo to get your concerns addressed and to discover whether liposuction is the best solution for you.
back to top
Facelift Surgery (for men)
It may come as a surprise to some that one of the most popular cosmetic procedures for men is a facelift, also known as rhytidectomy. Some may be coming to an age in which they feel that having a facelift will give them the boost in confidence they need to make better business deals, perform better on the golf course or just want to look younger and more handsome. And why not? Women aren't the only ones who want to shave off a wrinkle or two.
For any man seeking facelift enhancement in Southwestern Texas, Dr. Frank Agullo's skilled hands and talented staff offer top notch facelift procedures in a state-of-the art facility. If you're ready to look five, ten, fifteen or even twenty years younger, the facelift presents your "best face forward" with many tightening, firming and smoothing techniques to bring back your confidence and improve your look.
What can I expect with a facelift?
Think of a facelift much as a "fitting". When you get a suit tailored, it fits you perfectly. It feels snug, polished, wrinkle-free and tight. Wearing a suit that doesn't fit properly may look saggy, wrinkled or too loose. During your private consultation with Dr. Agullo, he can talk about any concerns you have about getting a facelift and point to areas that he can help you to enhance. You can show him your points of interest, such as between your eyebrows, forehead, cheeks, chin and other areas of your face to turn your frown lines into a years' younger appearance.
Getting a facelift can make you feel young again and brand new! Here are some things Dr. Agullo can help to correct with your El Paso facelift surgery for men:
Lifting sagging skin
Eliminate double chin or extra baggage on neck
Smooths out wrinkles and creases
Corrects awkward facial expressions
Sharpens jawline
Restyles bags under eyes or droopy eyelids
By far, facelift procedures are the favorite procedure of men who seek cosmetic treatment by a professional plastic surgeon. Dr. Frank Agullo is a renowned board-certified plastic surgeon in El Paso, TX and is an accredited member of The American Society of Plastic Surgery.
El Paso men's facelift techniques
Depending on how extensive or how minimal the corrective procedures will entail, he may use one or more of the following choices:
Full Facelift: Combines many of the corrective procedures below.
Mid-Facelift: This targets the lower eyes, cheeks and nasal furrows to pull up and tighten any sagging skin that is caused due to loss of elasticity. The surgeon may use an endoscopic procedure that places tiny incisions along the hairline and just on the inside of the mouth. Fat pads in the cheeks are shifted above the cheekbones. Another style is with Endotine bio-absorbable implants to strengthen the sagging tissue.
Mini-Facelift: A mini facelift is perfect for those who want rejuvenation with less probability of scars and shorter healing time. Some people call this the "weekend lift" because it implies only a few days of downtime, vs. weeks of healing. It targets cheeks, nasolabial folds and neck baggage as well as correcting early signs of aging.
Neck Lift: This is also called a cervicoplasy or neck lift platysmaplasty in which small incisions around the ears, combined with liposuction can improve the appearance and tightening of the sagging skin around the neck due to loss of elasticity. Say goodbye to double chin!
Forehead Lift: Frown lines or wrinkles from exposure to the sun can reveal early signs of aging on the forehead. This procedure fixes that by restoring brows to their normal level and by enhancing eyes where they may be sagging or drooping. Many men like the look of a smooth browline and the correction of the deep horizontal lines and creases in the forehead caused by worn facial expressions and loss of elasticity.
Dr. Frank Agullo can help his patients choose the best techniques and recommendations based on case-by-case circumstances. Things like smoking, stress, and poor diet or lifestyle choices can intensify the aging process and make your face look older than you really are. The facelift techniques he uses can literally turn back the hands of time and bring about a renewed sense of self that many men seek going into middle age.
Getting El Paso Rhytidectomy Surgery
Dr. Frank Agullo is recognized as a top cosmetic surgeon. The length of time of your procedure will largely depend on which combination of techniques he will need to perform. Some may require only an hour of surgery, whereas a complete rhytidectomy facial overhaul may require several hours to complete. The recovery process also varies, with some patients getting a mini facelift and being able to present their face to the public again after only a few days, when others who get a more complicated procedure will need a few weeks of healing.
Preparing your body ahead of time is essential to heal quickly. You'll want to stay as healthy as possible, including quitting smoking or drinking at least a couple of weeks prior to the surgery.
Two weeks before surgery:
Avoid exposure to sun or tanning beds (and for two months after surgery).
Quit smoking to avoid the chance of clots, improper healing or poor.
Call your doctor if you get any type of sickness, skin infection or flu-like symptoms.
Ask Dr. Agullo how much time he will recommend you take off from work or other obligations for your particular facelift procedure. Some may be one week, others may require up to four weeks of recovery.
Don't take aspirin, natural products or prescription medications containing blood thinners. Ibuprofen, Motrin, Advil, Motrin, Green tea, and St. John's Wort are just a few.
On the day of your facelift:
Avoid eating or drinking anything (even water) after midnight on the day prior to your rhytidectomy.
Request a friend or relative come with you to give you a ride to and from the surgery. You can't drive for a few days afterwards and will feel drowsy.
If you have a mustache or goatee, shave it off at least a week ahead of time. But don't shave for at least a couple of days prior to your surgery as it opens pores.
Don't apply any shaving cream or lotion on your face.
Dr. Frank Agullo will go over whether you choose the IV conscious sedation or general anesthesia. IV conscious sedation may give you faster recovery, however most patients prefer general anesthesia to ensure no recollection of the procedure. The choice is entirely yours to make and our staff has a leading anesthesiologist on staff to make your experience as comfortable as possible.
Recovering from facelift surgery
Recovery from having a facelift greatly varies depending on how extensive your procedure. Mini facelifts generally heal much faster than complete facelifts, but this is not the only predicator. It also depends on whether you undergo IV conscious or general anesthesia. All of these variables make it difficult to say exactly how long it will take to recover.
As a rule of thumb, you can expect swelling, soreness, tenderness, stiffness and some discomfort for a few days and then after a week or two the soreness will gradually begin going away. Most people heal within two or three weeks enough to go out in public with their new facelift. It doesn't happen overnight. You should avoid scheduling any social obligations for some time to allow your face and your body the adequate healing time.
Work requirements also vary. If you just have a few minor cosmetic enhancements, you could return to work in a few days. If the work is more extensive, it will take longer. Dr. Agullo can discuss these concerns with you and advise you as to what is necessary for healing for your particular circumstances.
You can minimize swelling by applying ice packs to your face throughout the first 48 hours after rhytidectomy. It is recommended that you keep your head elevated to minimize swelling. Avoid any sun exposure for a few months, even just going out in the sun you should wear some type of a hat or your skin can develop a rash or splotchy effects. Remember that your skin will feel tender. Certain lotions or creams can aggravate it. Ask your doctor how long it will take before you can shave again.
Alert your doctor if you have any chest pain, irregular heartbeat, shortness of breath, or require hospitalization.
What risks are there to facelift surgery?
Anytime you choose to undergo surgery willingly and go through with any form of anesthesia, you will be asked to sign the appropriate consent forms. Make sure you only choose a board certified plastic surgeon with the proper credentials and who will perform the surgery in an accredited facility. Be honest about everything you are taking, including prescriptions, diet, exercise, or any drugs or alcohol which can increase your risk of adverse side effects. Some risks include:
Infection
Improper wound healing or unfavorable scars
Risks or reaction from anesthesia
Facial nerve injuries / asymmetry
Fat necrosis
Skin numbness / sensation
Persistent soreness or pain
Sutures becoming visible or surfacing through skin
Needing of revisional surgery
Chances are, if you follow the instructions of your plastic surgeon then your procedure will be successful and everything will go as planned.
How much will a men's facelift cost?
Most insurance companies don't cover rhytidectomy unless they are due to functional defects that can be traced to disease or an accident that causes injuries to the face. It is best to check. El Paso men's facelifts cost generally between $4,000 to $15,000, with a lot of the factors mentioned earlier. These costs will include the surgeon's fee, anesthesiologist, operating facility, prescription medications or other related required. Getting a facelift is a positive step in improving your self- confidence. Just make sure you have realistic expectations.
back to top
Eyelid Surgery (for men)
Because men have thicker and more masculine facial features, the El Paso eyelid surgery for men requires a different set of techniques than for women. The shape and contour of their eyes is heavier and therefore El Paso cosmetic eyelid surgery must take these features into account, giving men the attention to address those needs. Men's eyebrows are generally flat across their foreheads without the typical arching or tapering as that of women's eyebrows, which is something that must be taken into account considering the amount of loose skin on the eyelids.
There are many reasons why eyelid surgery might be a good fit for aging men. The skin loses elasticity as the aging process occurs, thereby bringing the eyes down to appear more "tired" or droopy and saggy. This is really nothing more than loose skin, however this can make a man's face look older than he actually is.
An eyelift can accompany a browlift and encompass both the top and bottom of the eyes to bring the face back to a more natural state of rejuvenation. Dr. Frank Agullo has worked on eyelid surgery for men of all different ages and ethnic backgrounds, since men of different cultures can sometimes have different needs. Dr. Agullo's knowledge of the latest cosmetic procedures will ensure that your eyelid surgery will be "pleasing to your eyes", with no pun intended.
Also known as blepharoplasty, the male eyelid surgery can help to address the following problems:
Crow's feet
Dark under eye circles
Lower & Upper loose skin of the eyelids
Excessive wrinkles around eyes
Lower or droopy eyebrows
Creases between brows
Some of the men he has helped have experienced dramatic and life transforming results.
El Paso male blepharoplasty techniques
The first step to getting eyelid surgery is to meet with Dr. Frank Agullo for a consultation. If you want to turn back the hands of time and reverse the signs of aging, blepharoplasty is a great solution and is a very quick procedure as compared to other types of cosmetic surgeries. Dr. Agullo will use his skilled hands to tighten the loose skin under and above the eyes, as well as trimming any excess fat that can create the "baggy" look over or under the eyelids. Incisions are barely visible since they are done in hidden areas around the eyes to ensure invisible scars.
In fact, nowadays there are non-invasive and even non-surgery options for blepharoplasty in El Paso. Here are a few techniques that can be used to achieve sensational new eyes:
Transcutaneous Upper/Lower Eyelid Blepharoplasty:An incision goes through the crease of the excess eyelid skin, usually positioned within the crease. The surgeon uses care only to remove the skin while not damaging any of the underlying muscle of the eyelid. In some cases, the muscle can be moved to the outer barrier or selectively separated. Transcutaneous literally means "through" the skin, because that's where the incision will be made. There are several types of upper and lower eyelid blepharoplasty techniques.

Transcutaneous Upper Eyelid Blepharoplasty
Transconjunctival Upper Eyelid Blepharoplasty
Transconjunctival Lower Eyelid Blepharoplasty
Transcutaneous Lower Eyelid Blepharoplasty
Transcutaneous Lower Eyelid Fat Lipolysis

CO2 Laser: This is an unobtrusive method of cleaning up the fine lines and wrinkles around the eyes to soften them naturally. If they were entirely removed, it would seem unnatural to "disappear" altogether so this method uses a softer approach to improve the deep lines and make them less prominent.
An eyelift normally takes an hour or two to complete, depending on whether the surgeon is doing both the upper and lower eyelids consecutively. Most often, the doctor will work on the upper eyelids first and make the incisions within the crease lines of your lids. The skin will be separated from the underlying tissue and the excess fat, muscle and skin removed. He will then make very small sutures to close the incisions, where they will remain for three to six days. In some cases, the lower lids may not need sutures.
Many eyelid procedures are done with a local anesthesia. You can discuss the best option with the plastic surgeon to choose the right type of sedative for your circumstances and comfort level.
Finally, the doctor can resurface the deep wrinkles, lines or crow's feet with the laser after the upper and lower lids have already been corrected through the cosmetic surgery procedure. Dr. Agullo will often combine fat injections with or without PRP (protein rich plasma) to improve the final result. Blepharoplasty should be done at an accredited facility, such as that of Dr. Frank Agullo's El Paso Cosmetic Surgery plastic surgery facility in El Paso.
Preparing for and undergoing El Paso Blepharoplasty
Dr. Frank Agullo is one of the Southwestern Texas region's blepharoplasty cosmetic surgeons. He will discuss the best techniques to use for your individual eyelift and will show you before and after pictures. Depending on your own eyes, he will also discuss what you should do to get ready for your surgery so that you can prepare accordingly.
Make sure you:
Avoid sun exposure and tanning for at least two weeks before the surgery.
Quit smoking at least two weeks prior.
Don't take aspirin or prescription medications which contain blood thinners either before or after your surgery. Ibuprofen, Advil, Motrin, Green tea, St. John's Wort, and other herbal supplements.
Allow yourself recovery time for a few days to a week.
Ask someone to drive you to and from the surgery.
Don't use any lotions on your face.
Stock up on supplies like ice packs, small gauze pads and medical necessities.
Many patients opt for IV conscious sedation for eyelid surgery, but talk to your surgeon to decide if this is right for you. Local anesthesia is also an option for eyelid surgery. Dr. Frank Agullo will go over these options with you.
Recovering from El Paso Eyelift Surgery
As you might expect, you should limit your work and activities for a few days after eyelift surgery to give your eyes a chance to heal normally. Some men experience dry eyes following an eyelift, which is completely normal but if the dry eyes prolong for greater than two weeks, it's best to seek Dr. Agullo's advice on how it should be handled. In the meantime, you should stick to your prescribed or recommended eye drops as per Dr. Agullo's advice.
Make sure to keep your eyelids and eyes iced with soft ice packs or cubes in a washcloth. Some people use freezer bags with frozen peas as another alternative. Swelling should start to diminish within a few days to a week, and should heal entirely after a few weeks. The most important aspect of your healing will be rest, so try to keep your eyes closed and get plenty of rest, at least for the first few days.
Finally, try to avoid sun exposure for a few months after blepharoplasty. It can make your skin red or splotchy and will simply hurt your eyes, which may be very sensitive for a while. Always wear UV protective sunglasses. You may also wish to buy the larger frames to help cover up all of the areas around your eyelids.
What are the possible complications?
Although rare, complications can occur. Rest assured that most all patients are very pleased with blepharoplasty surgery. Dr. Frank Agullo is a renowned, board-certified plastic surgeon and accredited member of The American Society of Plastic Surgery. Some risks or problems with eyelid surgery could be:
Infection
Bleeding
Dry eyes
Swelling
Bruising
If anything seems unnatural, talk to your doctor right away. One simple question can save a big headache later and Dr. Frank Agullo is very compassionate, approachable and easy to work with. His goal is to ensure your total satisfaction and to help you achieve amazing results.
It is important to note that getting an eyelift will not permanently stop your eyes from aging; however the procedure is long lasting. Upper eyelids look great from five to seven years (or for the rest of your life), whereas lower eyelids rarely needs correction ever again. In some cases if the lids begin sagging again, the next step would entail a forehead or brow lift, rather than another eyelift.
Always discuss your expectations in advance with your surgeon to avoid any regrets or disappointments. Getting an eyelift doesn't alter the physical structure of your face, merely your appearance around your eyes.
How much does men's El Paso eyelift surgery cost?
Costs of blepharoplasty cosmetic procedures for men will include the operating facility, surgeon's fee, anesthesiologist, medical supplies, prescriptions (if needed) and any other associated expenses. This varies depending on every person, but is usually in the neighborhood of $2,000 – $4,900 in the Southwest Texas region.
Most insurance companies typically don't cover eyelifts unless they are medically necessary to correct defects caused by an injury or disease. Even still, these cases can be complicated to assess. It's best to get an estimate during your consultation.
Getting an eyelift can do wonders to restore your self-esteem and to improve your masculine facial appearance. Many men who have undergone blepharoplasty reported feeling and looking at least a decade younger than their true age and most have been exceptionally pleased with the results.
back to top
Breast Reduction (for men)
Breast reduction surgery in El Paso, TX is not just a procedure for women. Men who are self-conscious about having too much fat in the chest area may be good candidates for male breast reduction surgery. Also known as gynecomastia, the plastic surgery procedure is not uncommon. As many as one in three men in North America suffer from a form of abnormal breast development or enlarged tissue. Not only is it embarrassing for a man to have breasts, it can truly be painful to experience the neck or back pain associated with carrying around extra weight. There are special contraptions you could wear, but why go through all of that trouble and discomfort?
Men, now you can get relief from lack of confidence or physical discomfort associated with having male breasts. Dr. Frank Agullo is a Clinical Associate Professor of Plastic Surgery at the Paul L. Foster School of Medicine; Texas Tech University Health Sciences Center and an Affiliate Professor at the University of Texas at El Paso. He has thoroughly studied the unique plastic surgeries techniques for men and has performed hundreds of male breast reduction procedures. Your whole neck, shoulder, back, arm and upper torso will feel better and look more masculine after male breast reduction surgery.
What can men expect with breast reduction?
A private consultation with Dr. Agullo is the first step. He will examine your chest and assess your health to see if you are someone who truly needs the male breast reduction surgery. He will take measurements, take photographs and look over your medical records, including your medical history and family's. At that time he may see how pliable your skin is and how the elasticity will affect your healing time. Depending on your current health, size and shape of your breasts, as well as your current health, it may be necessary to relocate the areolas, much the same as the breast reduction surgery for women.
Before coming to see Dr. Agullo for the consultation, ask yourself these questions:
Do you avoid the beach or pool because of having a fear in social settings?
Can this anxiety be correlated with the shape of your chest?
Does your chest make you self-conscious enough to want to hide under large or baggy clothing?
Do you worry about what your spouse or mate thinks of your chest?
Do you feel like you have "Man Boobs" but are too embarrassed to admit it?
Have you tried firming up your chest and pecks by traditional methods of exercise and diet but have not seen any results?
You can expect that after the male breast reduction surgery, your chest will look more masculine and trimmed down to a proportional physique. You will not be able to lift heavy objects for a while, so keep that in mind when scheduling your man breast reduction El Paso surgery.
El Paso male breast reduction techniques
The technology to help with gynecomastia has made it easier for men to achieve male breast reduction. Unlike women's breast reduction, men do not follow a predetermined breast size. So how much tissue and fat are trimmed will depend upon how severe their case may be. The surgeon will use one or more of the following two techniques to lift, reduce, remove fatty tissue and diminish the size of the bosoms. Here are two common techniques (and a few that are used less frequently):
Liposuction: This is the most common technique to remove the fatty tissue and improve the shape of the chest area. Dr. Agullo will often combine either Vaser or Smart liposuction at the same time. The surgeon will remove excess glandular tissue by cutting it during an outpatient procedure through a small incision beneath the areola.
Incisions: Most male breast reduction surgeries can be done with liposuction and a small incision beneath the areola. More advanced cases may require additional incisions to eliminate the redundant skin and subcutaneous tissue. In the most advanced cases, similar to the women's variable of breast reduction surgery, the surgeon will apply one incision around the male areola, a second vertical incision underneath the bosom, and a final incision within the natural crease. He will take out the extra fatty tissue and skin, shifting the areola to a higher place for a natural appearance. Depending on whether the sagging has stretched the areola, he can decrease the size of the areola to a more natural male appearance. This is done as a shaping process.
Although not as imperative in men as in women, the sensation of the nipples and areolas can be preserved in most cases.
Preparation for gynecomastia surgery in El Paso
Men wanting breast reduction surgery often feel self-conscious, uncomfortable, or have masculinity issues. They are tired of wearing clothes that are too big, avoiding the pool or beach, or just feeling embarrassed whenever they need to remove their shirts. Breast reduction for men is a surprisingly common procedure that can be done in a couple of hours at an accredited plastic surgery clinic.
At least two weeks ahead:
Quit smoking at least two weeks prior to gynecomastia surgery and don't start again for at least two weeks thereafter to avoid the chance for slow healing, poor circulation or blood clots.
Don't spend time in the sun for at least two weeks.
Stop taking aspirin or medications that may contain blood thinners, such as Motrin, Ibuprofen, Advil, etc. Vitamin E, Green tea, Gingko, and St. John's Wort herbal products should also be avoided for at least two weeks prior.
Tell the doctor if you get sick with a cold, skin infection or any type of stomach/other illness.
Schedule the time off from work that you will need to heal properly. Keep in mind that lifting heavy objects will be off limits until the doctor's approval, so if your job requires manual labor of any kind then notify your managers of your surgery.
On the day of:
Bring a relative, friend, or companion to and from the male breast reduction surgery. It will take a couple of hours to prepare and a couple of hours to perform the procedure, as well as time spent in the recovery room. You can't drive yourself home, it is simply not allowed.
Don't digest any food nor drink any beverages after midnight on the day before gynecomastia.
Wear a loose button-up shirt so that you can get your clothes on after the surgery without struggle or pain.
Avoid lotions or shaving in the area of your surgery for at least a day beforehand.
During gynecomastia repair at El Paso Cosmetic Surgery, you will be either undergoing IV conscious sedation – or "twilight sedation" – or general anesthesia. Conscious sedation means you will have some awareness, whereas general anesthesia you will not. Either way, most patients have no recollection of the surgery. With IV conscious sedation, more patients experience speedier recovery, less nausea, headaches, and other symptoms often associated with general anesthesia.
Dr. Frank Agullo can go over both of these options with you during an initial consultation. Most men prefer to be completely under general anesthesia during a breast "chest" reduction surgery, in which case we have a board certified anesthesiologist on our team. Breast reduction surgery for men in Southwest Texas, El Paso, Las Cruces, and Chihuahua is nothing to be ashamed of and will give you the male physique you've been longing for.
What risks to male breast reduction are there?
Believe it or not, getting a breast reduction for a man is becoming a more than ordinary surgical procedure. The risks are minimal, and Dr. Frank Agullo is board certified and highly recognized as one of El Paso and Albuquerque region's leading plastic surgeon for male and female cosmetic procedures.
Risks are most associated with smokers, drinkers or people suffering from any type of medical problems from the past that were not made available to the doctor. It is wise to tell your doctor everything and to be honest about the way you live your lifestyle. He can help you weigh the pros and cons to see if breast reduction for men is right for your case.
Although unlikely, some risks of male breast reduction are:
Infection
Circulation or blood flow issues, including clots
Slow healing
Temporary loss of nipple sensation, rarely permanent.
Worst case scenario; if revisionary surgery is necessary, the chest area of your body will still look much better than having "unmanly" bosoms where they don't belong. You can ask your doctor if any of your habits or lifestyle activities and health may pose you at a greater risk than someone else.
Male gynecomastia surgery recovery
Of course, you'll most likely feel sore for a few days after surgery, which is quite normal. But if you feel any abnormal complications or symptoms, please notify your doctor right away.
Male breast reduction is not too time consuming. Although it will take a while to feel like yourself again, you will only be in the operating room for a couple of hours. The staff will make you feel comfortable, put you at ease and get you ready for the procedure. You will also be in the recovery room under observation following your gynecomastia procedure.
If there were any surgical drains used during your male breast reduction surgery, they will be taken out within a few days. Dressings, bandages or gauze should be changed once the drains are removed. Your chest will be bruised, swollen and perhaps even discolored for at least a few weeks. This is nothing to be alarmed about and it is perfectly normal.
Rest assured, every precaution will be taken to make your healing smooth sailing. And soon enough, you'll be able to take your shirt off in public – either at the beach or pool – without worrying about people staring or wondering about your gender.
Getting a boost of confidence (FREE!) with your male breast reduction.
How much is breast reduction for men?
Chances are, the insurance provider will not cover gynecomastia. If medically necessary, Dr. Agullo will help you with the preapproval process. The cost of male breast reduction varies a great deal, but in the El Paso vicinity it can run between $3,000 to $5, 000; depending on the reduction techniques, choice of anesthesia, prescriptions, tests and post-surgical undergarments, surgeon and hospital facilitation.
Dr. Frank Agullo uses modern liposuction gynecomastia techniques to the appearance of the male body. He has achieved a double board certification in plastic surgery and general surgery; as separate certifications. He has a published book chapter on male gynecomastia surgery and multiple articles on body contouring.
back to top
Rhinoplasty (for men)
El Paso rhinoplasty surgery is also known as nose reshaping or a "nose job". Men who seek rhinoplasty are often self-conscious about the size or shape of their nose. Since it is the most prominent element of one's face, this is understandable. It could be that your nose is too big or small, crooked or just needs reconstruction due to having a broken nose at some point in your lifetime that didn't heal properly.
No matter what the reason for seeking rhinoplasty in Southwestern Texas, Dr. Frank Agullo's talented hands and skilled staff offers nose reshaping affordably. Using the latest technologies, he can give you a glimpse of what your nose will look like after the nose job procedure is done. This is a fairly common procedure that will heal in less time than other plastic surgery procedures. You may need to miss a few days of work, but not as many days as with more extensive plastic surgeries.
Having a nose job can improve a male's self-esteem and help him present his "best face forward" so that he can face the world with a gorgeous face to match the personality behind it.
What can nose surgery correct?
During your private consultation with Dr. Agullo, he will discuss your main concerns or complaints about your nose. If your facial growth is complete and you are otherwise physically healthy, he can determine what type of corrections you wish to make with your nose reconstruction. In general, having rhinoplasty can help with:
Enhancing nasal asymmetry
Size of nose in relation to the rest of face
Width of nose from the bridge to base
Profile of nose if visible crooks, dips or humps are visible
Tip of nose being upturned or drooping
Nostrils that are too small or large, or upturned
Restyling noses due to past breaks or improper healing
It is never a good idea to get a nose job based on someone else's recommendation. Rhinoplasty is an individual decision based on your own comfort level, rather than because of any teasing you may have endured. We say this because of many teens who have not yet grown into their full face and whose noses may be larger than they like, yet once they come to be an adult their nose becomes more proportionate to the rest of their face.
A rhinoplasty or nose surgery is often combined with other facial cosmetic procedures. The most commonly combined procedure is chin augmentation or chin implants. Dr. Agullo will help you determine if a chin augmentation would improve the facial harmony or contour using the Vectra 3D system. Other procedures commonly combined with rhinoplasty include eyelid surgery (blepharoplasty), facelift, fat injections, PRP (protein rich plasma) injections, and hair transplantation.
El Paso rhinoplasty techniques
Dr. Frank Agullo uses a highly advanced Vectra 3D imaging system to give his patients a "before and after" glimpse as to what their nose job will look like after any swelling and healing finishes. Upon determination of which procedure will be best for the individual, either an open or closed rhinoplasty technique will be used to perform the nose reconstruction. Both open and closed rhinoplasties have certain advantages or disadvantages.
Open rhinoplasty: With open rhinoplasty the surgeon can see the inner structures of the nose with more precision, therefore in complicated nose jobs this type of procedure is more desirable and the effects longer lasting. This is especially true when performing ethnic rhinoplasty to ensure exceptional results. Open rhinoplasty requires an extra incision on the columella and along the inside of the nose. The nasal skin is then carefully repositioned. Open rhinoplasty is most often done in complex nose reconstructive circumstances.
Closed rhinoplasty: With closed rhinoplasty the plastic surgeon makes several slight incisions on the inside of the nostrils but does not go inside of the nose. This means scarring is virtually invisible. This is ideal, however cannot be used for everyone depending on how extensive their nose job will be. People who need only minor alterations will be the best candidates for this procedure.
Preparing for and undergoing El Paso Rhinoplasty
The first thing you should do to prepare for rhinoplasty is find a qualified surgeon to perform the procedure. Dr. Frank Agullo is board certified and highly recognized as the Albuquerque and El Paso area's leading plastic surgeon. He can show you before and after pictures and discuss your options and the techniques that would be useful during your one-on-one consultation.
Although getting a nose job is considered minor as compared to many other difficult types of plastic surgery procedures, it is still important to prepare your body. Staying healthy is key to ensure healing quickly and leads to better recovery. Stock up on vitamins that promote healing.
At least a couple of weeks before surgery:
Avoid tanning beds or being in the sun.
Stop smoking to avoid the chance of clots, improper healing or poor.
Don't spend time in the sun for at least two weeks.
Don't take aspirin or any prescription medications containing blood thinners. Some include Ibuprofen, Advil, Motrin, or even natural products like Green tea, St. John's
Wort, or other herbal supplements.
Alert your doctor if you become ill with the flu, cold, any type of skin infection or other illness.
Even though it is a common facial procedure, you'll want to take a couple of weeks off from work to recover. There will be swelling and a cast on your nose for a week +.
On the day of your nose job:
Ask a friend, relative or neighbor to give you a ride to and from the hospital. The reconstructive nose surgery will take couple of hours to complete, plus time in the recovery room. You can't drive yourself home, it is simply not allowed.
Don't drink or eat anything after midnight the day before rhinoplasty.
Don't shave for at least a day prior to surgery.
Avoid lotions on your face.
During rhinoplasty surgery, you will either be doing IV conscious sedation or general anesthesia. IV conscious sedation usually means a speedier recovery, but many patients prefer the general anesthesia to ensure no recollection of the procedure. Dr. Frank Agullo will go over these options with you.
Taping the nasal bridge and area above the tip (supratip) can diminish swelling because the subtle pressure from the tape serves two purposes. For one, it can help press out trapped fluid to reduce swelling; and secondly it puts pressure on the tissues to reduce the size or volume of the portion of the nose that is swollen. Taping is typically done within the first few weeks and up to six months following surgery but you can still see the benefits even if the taping doesn't start until two months thereafter.
Recovering from rhinoplasty
The first two to twelve weeks after rhinoplasty surgery are when the most significant changes will occur. Swelling gradually goes down after a couple of months and then the nose will gradually shift into its new appearance. It doesn't happen overnight. In fact, for the first week after the nose cast is taken off, your nose will appear swollen, bruised and will be sore. However, by the end of the second week you should feel comfortable about going out in public and to the casual observer it will be unlikely noticeable that you recently had surgery.
Every individual is different, and depending on how extensive the surgery will be (open or closed technique) may predicate how soon your nose looks the way it should. Healing times vary. After a few months, nearly all of the swelling will have subsided but your nose may appear larger in photographs than it would after the healing is finished. For some people it can take up to a year for the nose's final shape to be revealed. Keep this in mind when making any social engagements. For example, if you are a groom getting married in a month and want to get a nose job, this may be a bad idea and will be noticeable in pictures. Two months should be appropriate.
For some people swelling on the tip of the nose or over the boney hump in the center can be longer lasting. If you had a rhinoplasty nose hump removal, it is quite common for extra swelling across the most central region of the nasal bridge, particularly where the "hump" was removed. Some patients fear that this bump will be permanent.
Some rhinoplasty patients report having a stiff upper lip within the first few weeks after the nose job or that they have difficulty smiling and making facial expressions. Don't worry, this is common and will likely resolve itself after the swelling goes down. You'll soon be smiling again normally in no time.
Swelling can be minimized by taking the proper precautions before the surgery and by applying ice packs to your nose and face for the first 48 hours after rhinoplasty. Also, keeping your head elevated alleviates swelling.
Finally, try to avoid sun exposure for a few months after rhinoplasty because it can cause your skin to become splotchy or red (like a rash). Your skin may be tender and more susceptible to sunburn. Make sure to wear a hat or sunscreen accordingly.
Are there risks to rhinoplasty?
Rhinoplasty is quite common and without a lot of risk if you hire a trusted plastic surgeon to perform the procedure. Dr. Frank Agullo is a renowned board-certified plastic surgeon who is also an accredited member of The American Society of Plastic Surgery. Most risks are primarily associated with drinkers, smokers or people with previous medical conditions that were not made known to the surgeon. Tell your doctor everything and be honest about your lifestyle. Some risks include:
Infection
Reactions from anesthesia
Amplified swelling
Bruising
You can ask your doctor if any of your habits or lifestyle activities and health may pose you at a greater risk than someone else.
How much is rhinoplasty for men?
Insurance companies typically do not cover rhinoplasty unless it is for corrective functional defects caused by an injury or disease. But even in these cases it is best to check. Otherwise, the cost of rhinoplasty surgery in El Paso ranges from $4,500 to $6,500, so get an estimate in advance during your pre-visit consultation.
Costs of rhinoplasty surgery will include the surgeon's fee, plus the operating facility, anesthesiologist, splints, packing, medicines and other related services that vary depending on each individual.
Having a nose job can greatly improve your self-image and confidence, particularly if you have been unhappy with your nose for a long time or feel unconscious about its size, shape or proportion. You should go into your rhinoplasty surgery with realistic expectations.
back to top
Pectoral Implants for Men
These days, women aren't the only ones concerned with the size and appearance of their chests. Pectoral implants cosmetic procedures for men are ideal for patients who want to add shape and size to their chest area when other methods of exercise, weightlifting or diet have not produced the results desired. Men who wish to improve their physical appearance and achieve more definition will be very happy with getting pectoral implants.
Genetics and other conditions may prevent you from getting "great pecs" which is typically the look that many bodybuilders strive to achieve. Not every type of DNA is cut out to become a bodybuilder or to allocate the time, dedication and supplementation required to get those dramatic pectoral cuts. The pectorals are really the focal point to other important physical attributes in a man's figure, such as delts, abs and shoulders. The pec implants can give you more shape, thickness and fullness.
Other reasons men may decide on this plastic surgery include illness or injuries associated with the chest area to bring back the physique to a normal appearance. Some people also refer to these as "breast implants for men" or male chest implants. No matter what it is called, this is becoming a more popular surgery as more men seek to improve their confidence levels, appearance and health.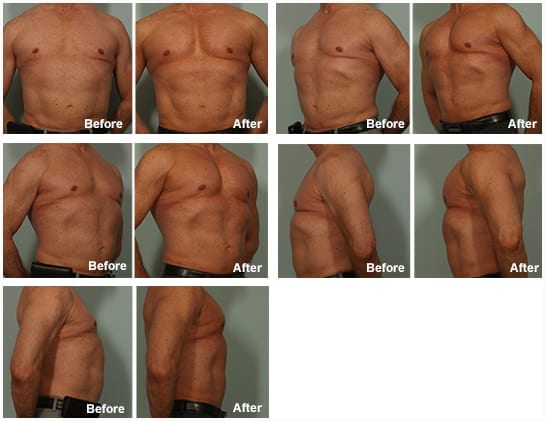 Commonly combined male pec implant surgeries
First of all, there is a misconception that the silicone used in pec implants is like those used in female patients. It is not. The silicone used in male patients is a soft, yet solid material that is similar to athletic mouth guards or cardiac pacemakers; therefore it is more indestructible and won't break or leak.
Some men combine the chest implant surgery with liposuction for even greater results. This is also known as pectoral etching, which can be done in conjunction with the implants. The surgeon uses a liposuction tool to trace along the outer and lower edges of the chest muscles, leaving a modest pad of fat to give the pecs the desired "bulk" that many men seek.
Because there are often fat stores around the chest area, having those extra pockets removed can be beneficial before the implants are installed. This will give the patients even more definition in the chest area. Some men may also like to get the tummy tuck at the same time, which is also commonly done through liposuction. Needs vary for every individual, so it's best to discuss the options with the plastic surgeon and address your main focal points of cosmetic consideration.
Pectoral implant techniques
Dr. Agullo will discuss the specific techniques that will be necessary for your chest implants during the consultation. Incisions are made in the armpit region of each side and the silicone implants are then inserted through the incisions. In contrast to female implants, the male pectoral augmentation uses a solid elastomer implant that comes in different shapes and sizes, depending on the individual's preferences. It rises on top of the chest area to look like the patient's own muscles.
Using an endoscope, a small hole is placed just under the pectoral muscle. This does not separate the muscle itself or divide it from its position on the breastbone and ribcage. The solid silastic material is then inserted, depending on the size and shape of the man's physique.
The surgeon will then close the incisions with a layered suture around the chest area and on the skin. This technique minimizes bruising while maximizing healing performance. The silicone implant will feel snug and tight similar to the chest muscles of a bodybuilder. Scars will be barely noticeable since they are strategically placed in the armpit with minimal detection.
Types of pectoral implants
During a consultation, Dr. Frank Agullo may give you different 'sizers' to visualize the chest augmentation. Dr. Agullo will listen to your requests and concerns to help you determine the objectives you wish to achieve with your implants.
The main types of implant for men are a durable silicone. The implant is flexible, soft, smooth, and hard to the touch, just as a man's chest muscles should be. Unlike silicone or saline implants for women, there is no danger of rupturing the fabrication of the male pectoral silicone implants.
Conscious Sedation vs. General Anesthesia
You will have a choice between conscious sedation, which implies some cognition, versus general anesthesia of having zero awareness while the pectoral surgery is completed. IV conscious sedation yields faster recovery with less likeliness of nausea, vomiting, headaches and is more affordable than general anesthesia.
Although this is entirely a personal preference, many male patients prefer to be completely under. The surgery generally takes two hours. We have the El Paso area's very best board certified anesthesiologist on our team. You can discuss any concerns with Dr. Frank Agullo during the consultation.
Preparing for and completing surgery
The pectoral implant cosmetic enhancement takes approximately two hours. As described above, it can be performed with either a general anesthesia or through intravenous sedation. After the surgeon makes the incision through your armpit to create a pocket just underneath the pectoralis major, which is the larger of the two chest muscles, the implant will be inserted in the pocket. Even though it sounds easy enough, it's still important to prepare for surgery by:
Lining up a friend to bring you to and from the surgery. You won't be able to drive after undergoing anesthesia, even for several days thereafter.
Bring your paperwork and ID on the day of your procedure.
Don't eat or drink after midnight on the day before.
Avoid using any lotions or shaving cream on your chest, arms, etc. since it interferes with the procedure and recovery.
Quit smoking at least two weeks in advance to avoid the chance of blood clots, strokes or any complications.
Wear a loose button-up shirt instead of a t-shirt or anything that needs to slip on over your head. Raising your arms may be tender.
Pectoral augmentation for men in El Paso should be done at a certified surgical facility or hospital. Dr. Frank Agullo operates his practice and is double board certified for peace of mind and high emphasis on skill and knowledge of how to insert chest implants for men.
Recovery from pectoral surgery
Most patients will have to wear an elastic vest or bandage after their pectoral surgery to reduce the swelling. However, patients may experience a moderate amount of pain for at least a week until the soreness subsides. It will be important to get a lot of rest, adequate hydration and not to lift anything or overexert. You will not be able to exercise for at least six weeks. You may be prescribed with pain medication but aspirin should not be taken as it can lead to blood clots. And by the second week following the procedure, you will be feeling better and may be able to return to work and many normal activities.
Full recovery from chest implant surgery can take up to six weeks.
What are the risks to consider?
Although rare, sometimes there are complications that may occur. Many of these are minor, especially if done by a qualified surgeon and anesthesiologist. Dr. Frank Agullo is a board certified plastic surgeon who has been practicing for 30 years.
The silicone implants used for male pectoral implants do not carry a risk of leaking or breaking because the silicone is made of a different substance that is soft, yet solid and not filled with liquid such as those of female breast implants.
However, any type of surgery comes with risk of complications, such as bruising, accumulation of blood underneath the skin or bleeding from the cut tissues. It is very rare that extensive bleeding would occur. These risks are something to consider (although unlikely):
Implant displacement that would need corrective surgery
Asymmetry
Complications from anesthesia
Infection
Fluid under the skin (seroma)
Scarring
Numbness of the upper or inner arm
Dissatisfaction of the look or feeling of the implants
It is very important not to smoke cigarettes, as this increases the chance of improper healing, crusting, scabbing, poor circulation and blood clots.
Cost of pectoral implants
Pectoral augmentation in El Paso ranges from $4,000 and $5, 800 depending on whether the general or semi-conscious anesthesia is chosen, the silicone implant used, and incision site. Dr. Frank Agullo and his team are members of The American Society of Plastic Surgery. Your surgery is performed in an accredited surgical facility and can provide references, before and after pictures and many innovations that will help your pectoral implant surgery go smoothly so that you'll be back to your normal self in no time, except looking better than you ever imagined!
back to top
Buttock Implants
Contrary to what people may think, buttock implants are not just for women. There are a lot of men out there who have flat, underdeveloped or unshapely buttocks that make their pants look saggy and not fit quite right. More importantly, this affects their self-confidence and how they feel when they look in the mirror.
The good news is that El Paso Buttock Implants are available for both men and women. Men can use buttock implants to increase the size of their butt, as well as lifting and reshaping. If you are a man who…
Wishes your butt had more volume and shape
Dislike the way your butt looks in slacks and jeans
Feel as though your butt is too flat, small or disproportionate to the rest of your body
Want to have a more "manly" physique
Then read on to see if buttock implants might be the best solution for you!
El Paso Buttock Implant Techniques
Fat transfers are one way to improve the shape and appearance of the male buttocks. The procedure is done by removing fat through liposuction from one area of the body and repositioning it to the rear end to enhance volume and give it a lift. By using the patient's own fat, this can transform the look of a "flat" butt into one that is shapelier and that looks better in jeans or slacks. Fat can be taken from the back, abs, thighs, and arms or anywhere there are excessive fatty deposits.
Men can greatly improve their self-confidence by achieving the shapely derriere that is attractive and that simply looks better in clothing and swimming trunks.
The female version of the buttock augmentation procedure is often referred to as the "Brazilian Butt Lift". It can also be termed gluteal implant, butt implant, buttock enlargement or just a 'butt lift'. Men may not have fat to spare to do the liposuction; therefore an implant using silicone may be needed. These are very similar to the silicone implants used in the pec implants for men. The silicone implants are made of a soft, yet solid material that is much like those used in athletic mouth guards or cardiac pacemakers. They won't break or leak and feel comfortable enough while sitting, although you won't be able to sit for two weeks after the surgery.
Getting Butt Implant Surgery
A buttocks augmentation is performed at Dr. Agullo's state-of-the art facility in El Paso, Texas. It is most often done as an outpatient procedure, dependent upon whether the butt implants are combined with any other cosmetic procedures. You can plan on the entire surgery taking about 3 hours.
During your initial consultation, Dr. Agullo will discuss whether general anesthesia or IV sedation is better for you. The "twilight" sedation indicates some level of consciousness, vs. general anesthesia being completely "under". If you want faster recovery and less chance of nausea following the surgery, then twilight sedation might be better. However, most patients opt for the general anesthesia and prefer to be completely unconscious. This is completely a personal decision. We have one of the area's leading anesthesiologists on our staff to administer general anesthesia, if that is what you wish to do. Dr. Agullo can talk to you about the pros and cons and discuss any of your concerns.
Here are some preparation strategies for your male buttock implant procedure:
Quit smoking for at least two weeks prior to butt implant surgery and two weeks afterwards to avoid risks from clotting.
Ask someone to bring you to and from the procedure. You won't be able to drive (or sit) for at least a few days.
Avoid eating or drinking the day of your buttock implant procedure anytime past midnight.
Don't use any creams or lotions on your rear area since it blocks pores.
Wear sweatpants or shorts.
Are there risks with a butt lift?
There are not many risks in getting male buttock implants or fat injections. Some men wonder if the silicone implants will leak, but the answer is no. The material is very durable, yet flexible. Your rear may feel tight in the area of the implants and at first it will be sore and feel a bit foreign. Once your body heals and adjusts, you will likely be very pleased by the results.
Some risks of buttock implant surgery could be:
Infection
Painful sitting
Anesthesia or hemorrhaging
Vein or pulmonary complications
Needing buttock cosmetic revisions
Recovery from Buttock Implant Surgery
Once the buttock implants have been performed, you will need to wear a special compression garment on your butt. It is meant to keep everything "tight" and help with the healing. If your augmentation has been a fat transfer, it may take approximately three weeks for it to settle. Try not to sit very much or for any prolonged spells to avoid absorption of fat and/or increased soreness.
Other points about your recovery process:
You may have to lie down a lot for at least a couple of weeks after surgery.
Your butt will feel sore and tender.
You should take time to walk around even if it feels sore to keep your blood circulation flowing properly.
It will take about two weeks to resume work and normal activities.
Avoid any major exercise for at least one month.
If you experience any chest pain, abnormal heartbeat or shortness of breath, call your doctor.
Don't take aspirin or anything that causes blood thinning.
Before long you'll be ready to show off a much fuller, broader and shapelier physique like that of male bodybuilders. Your denim jeans, slacks and swimming trunks will look as good as the new "trunk" you are sporting, too. Overall this will equate to a more masculine feeling of confidence and self-assurance.
Cost of El Paso Male Butt Implants
Depending on whether the male buttock augmentation is done using your own fat through the liposuction procedure or with the silicone implants, the cost will vary. Another cost factor will be whether the choice of IV conscious sedation or general anesthesia is made. In skinny patients, the butt implants are most always necessary.
Other price considerations are the time spent by Dr. Frank Agullo's team to perform the cosmetic butt implants, prepare the injections and make the incisions buttocks. The cost can range from $4,000 – $10,000 for El Paso Butt Implant surgery.