Liposuction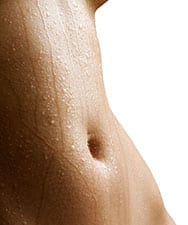 Liposuction has revolutionized the ability to transform a woman's body! Some women have genetic predisposition to store fat in certain areas of their body, such as hips, thighs, buttocks and the abdominal area. And while this can sometimes be solved through a dedicated diet and exercise routine, for thousands of women there is just no way to shed the stubborn fatty deposits, no matter how hard they try. It's simply a matter of DNA.
Liposuction also works well in smoothing, contouring and shaping the body to achieve noticeable effects. You can have a dream figure through the marvel of liposuction, and nowadays there are many new modern techniques to achieve dramatic transformations.
Who is liposuction designed for?
Also called "suction assisted lipectomy", the body contouring procedure of liposuction has become one of the best inventions in today's health industry, with more opportunities than ever for people to achieve their health and fitness goals through affordable cosmetic solutions. Liposuction is performed on millions of people, either in conjunction with other plastic surgery techniques or on as a standalone procedure to be done on targeted areas of the body. In fact, doctors can also use liposuction for isolated problems, such as removing a nodule or goiter from a patient's back, neck or shoulders. It is not just a tool for vanity; liposuction has become a valuable means of treating many types of health problems.
In women who have trouble losing weight in those aforementioned problem areas, women's liposuction in El Paso can help to remove those stubborn fat spots that just don't want to budge, no matter how many hours a day you spend on the treadmill (or not!). Liposuction is safe with minimal scarring and complications associated with this procedure. Although it is not recommended as a means for weight loss, this is one of the benefits.
Types of liposuction techniques used
Liposuction has truly evolved over the past decade, with astounding new breakthroughs that result in faster recovery times, precision results and less discomfort to patients than ever before. Dr. Frank Agullo uses modern liposuction techniques to smooth, contour and improve areas of the body with stubborn fat, extra skin and cellulite. Holding a double board certification in both plastic surgery and general surgery, Dr. Agullo serves patients throughout the Southwest with the most modern concepts in liposuction through advanced techniques.
The three primary liposuction techniques he uses are:
Traditional Tumescent Liposuction in El Paso: Pockets of fat stores are zeroed in with anesthetic liquid injections prior to the start of the procedure, which promotes them to swell. This swelling allows the liposuction tool to flow smoothly underneath the skin while removing the fat. This technique is known to reduce some of the typical problems associated with liposuction, such as post-op bruising, swelling or soreness. Tumescent liposuction decreases the chances for blood loss. This style of liposuction is often referred to as the "Gold Standard". It is the most common type of liposuction used today.
Power Assisted Liposuction: This form of liposuction allows for more comfortable "awake" liposuction.
El Paso Ultrasonic Liposuction: The "Vaser" ultrasonic liposuction is one of the most innovative lipo procedures to hit the health care industry. Also called "Ultrasonic assisted liposuction" or UAL – this procedure disrupts the fat stores by using sound waves – which literally melts the fat cells away! This technique is good for areas of fibrous fat, such as gynecomastia, upper back fat, neck, tummy, and chin or to fight love handles. Patients with a history of scarring from liposuction in the past may opt for the Vaser ultrasonic liposuction as a better alternative.
Although any form of liposuction should not be considered the "be all, end all" means to treating problems associated with weight gain (or loss), for women who have tried different strategies to no avail, the liposuction can help to realize significant changes, for the best!
What can I expect with a liposuction procedure?
Liposuction greatly varies for the length of time undergoing the procedure, depending on whether the procedure will be done as a targeted performance or an overall body-sculpting experience. Therefore you may expect to be under local anesthesia or general anesthesia, either as an outpatient (out the same day) surgery or overnight, depending on how extensive.
The first thing the doctor will require before committing to your liposuction enhancement is a consultation. If you smoke, you will have to quit at least two weeks prior to liposuction and for two weeks following the surgery. Smoking inhibits healing and may even lead to improper healing of scars, resulting in having to redo some of the procedure. In worse cases, it could contribute to strokes or blood clots.
You can also prepare for liposuction by:
Not eating or drinking anything after 12:00 p.m. on the night before your liposuction surgery.
Getting someone to drive you to and from your liposuction appointment, which could take anywhere between an hour to all day, depending on how extensive your procedure will entail.
Lying out towels or old bedding to keep your mattress dry in case of leaking.
Not shaving any parts of your body that will undergo the liposuction procedure at least a day or more before the surgery because it makes your skin more porous and subject to infection.
Stocking up on medical supplies such as Neosporin, wound dressings, gauze and other bandages for regular cleaning and maintenance.
Taking off the adequate amount of time from work to heal, which your doctor will instruct you how long is needed based on your case.
Dr. Agullo will use the best method of liposuction for whichever cosmetic procedure you have planned. He will apply the appropriate tools and his expertise to remove stubborn cellulite from those areas on your body that you wish to apply the lipectomy. You will be under either general anesthesia or IV sedation. You will not likely have any recollection of the surgical experience while you are sedated.
The success of your liposuction enhancement depends on your own body type, size, ability to heal, skin elasticity and other factors. Most people go through liposuction with a normal experience that will enable them to fit better into clothes after only a few weeks of waiting for the swelling to go away.
Liposuction recovery
After getting liposuction, the problem areas will feel lightweight, smoother and look shapelier after the healing process. Usually people can recover from liposuction as a standalone procedure fairly quickly, but when combined with other procedures it can vary depending on how many incisions are made and how extensive the surgery.
You may be "in and out" of your liposuction procedure within a few hours as an outpatient surgery, or you may have to stay at the hospital for a night or two if the liposuction is part of a larger procedure. There may be some tenderness, swollen areas or pain in the areas after liposuction is performed. Not to worry, this will pass. Just take care of yourself and follow Dr. Agullo's advice.
Make sure to keep mobile and walk around plenty, even if you feel sore. Mobility prevents blood clots, poor circulation, strokes and other complications. You will have a special garment that will cover your areas of liposuction. You will wear this garment continuously for approximately four weeks to avoid swelling and improve healing and contour.
Risks of liposuction surgery
Trying to do too much liposuction all within one day is dangerous. Your body has a limit to the amount of trauma that it can withstand when it comes to performing surgery. If you need a significant amount of liposuction, the plastic surgeon may recommend dividing up the procedure into smaller, targeted surgeries that would span throughout three or four weeks' time, rather than trying to do it all in one day. Massive amounts of liposuction is a dangerous practice and not one recommended by Dr. Agullo, who is also a Clinical Associate Professor of Plastic Surgery at the Texas Tech University Health Sciences Center, Paul L. Foster School of Medicine; as well as Affiliate Professor at the University of Texas at El Paso.
Although most of these are rare, the complications linked to liposuction can include:
Infection. Very uncommon.
Edema. (Swelling) of treated areas is something to expect for 5 – 10 weeks.
Hematoma.  Mild bruising common, excessive bleeding is rare.
Seroma. This is when the leaking of serum within the closed space just under the skin occurs, which is a risk linked to obesity or too much liposuction performed all at once.
Problems with anesthesia.
In general, getting liposuction is considered a safe cosmetic procedure, especially with the recent breakthroughs in techniques and innovative suction-assisted lipectomy tools.
Liposuction costs
Liposuction for women in Southwest TX can expect to pay anywhere between $3,800 – $12,000, depending on how much liposuction is needed and what areas of the body will be the primary target. The only way to get a firm price is to schedule a consultation with Dr. Agullo so that he can evaluate you and determine what the best solution is for you.
Combined liposuction cosmetic procedures
Because of its versatility, liposuction is commonly applied in conjunction with other cosmetic services. Each procedure is customized to the individual according to their frame, size, build, shape, height and current weight. Dr. Frank Agullo meets with each patient to determine the best liposuction solution needed for that person. Keep in mind that liposuction can also be used as part of a combination cosmetic surgical procedure.
Some of liposuction combined procedures may include:
Schedule a consultation to discuss your liposuction questions and to find out which type of techniques will best suit your needs.