July 25, 2015 | Ear Gauge Repair, Earlobe Repair, El Paso Office, Las Cruces
Come Get Your Earlobes Fixed!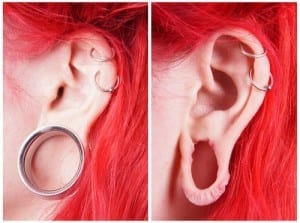 What might have seemed "cool" to do as a teen or young person often has heavy consequences, and getting a good paying job if you have ear gauges are one of those mistakes. Bands and Hollywood trendsetters often set the stage for what the latest styles and punk rockers are doing. However, young people don't often think about how this might affect their ability to get into the workforce after high school or college.
Another thing that young people don't think about is that things like ear gauges are more or less a fad. Would it still seem cool to have giant holes in your ears at the age of forty, fifty, sixty, or retirement age? Most likely not, if your earlobes even make it that long without tearing.
Your earlobes are just soft skin and tissue with no cartilage, which is why they can stretch so far. Ear gauges come in various sizes and degrees, from a few millimeters to inches, which makes your earlobes vulnerable and easy to tear. The size of ear gauge you can get greatly depends on your earlobe tissue and whether you have enough to accommodate such large holes.
However, studies show that employers frown upon ear gauges and may even require them to be removed if they offer you a job. This is especially true in military and field work occupations and related more to safety.
Can Ear Gauges Be Repaired?
The solution is ear gauge repair, which is surprisingly simple. Dr. Agullo is a board-certified plastic surgeon who performs many ear gauge repairs. Earlobe gauge repair is often a very simple outpatient procedure that can cost anywhere between $1,000 to $2,000, depending on the size of the holes and the patient's body type and structure.
If you are considering ear gauge repair in the Southwest, Dr. Agullo cautions that you should quit smoking at least a couple of weeks prior to the repair. Dr. Agullo performs ear gauge repair surgery using local anesthesia, and you can return to your normal activities within one to two weeks after the procedure.
Instead of being denied employment or military enrollment, talk to board-certified plastic surgeon Dr. Frank Agullo of Southwest Plastic Surgery. He can discuss the technique, cost, and recommendations before you make a decision as to whether ear gauge repair is right for you.
To schedule your consultation with Dr. Frank Agullo, contact Southwest Plastic Surgery by calling our El Paso office at 915-590-7900 or our Las Cruces office at 575-520-5041. For your convenience, you may also fill out our online contact form for more information. Dr. Agullo and his friendly staff look forward to meeting you.