August 26, 2020 | Breast Augmentation, Breast Lift, Breast Reduction
3 Minute Read: 
Many women choose to undergo breast surgery early in their adult life. Whether it is for a breast lift, breast reduction, or breast augmentation, plastic surgery is a standard practice for women looking to improve their self-confidence. However, women who are planning on having children may be concerned that breast surgery will impact their ability to breastfeed.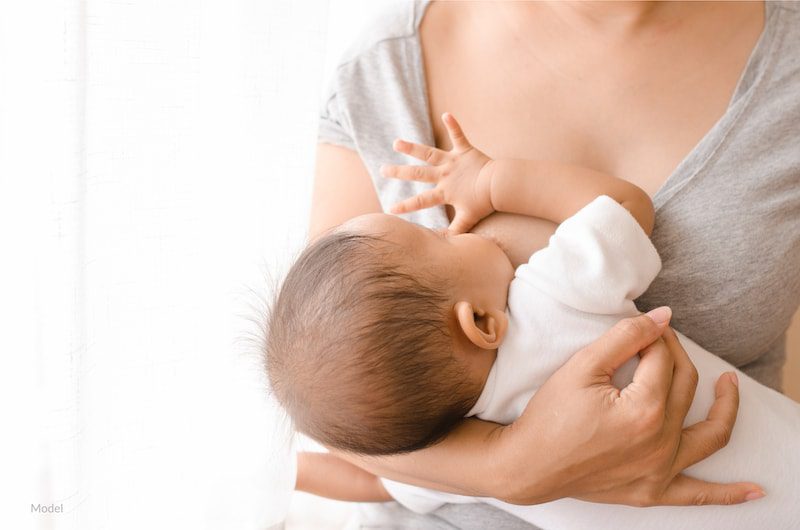 Can I Still Breastfeed After Breast Surgery?
You may be surprised that the answer is usually yes, most women can breastfeed following breast surgery, especially after breast augmentation with implants or breast augmentation with fat transfer. During breast augmentation, implants or fat injections are placed between your milk ducts and your chest wall. This avoids any interference with the mammary glands where milk is produced.
During breast reduction or breast lift surgery, some glandular tissue is removed. While this may damage the connection between your milk ducts and your nipples and impact your ability to breastfeed (usually by lessening the amount of milk you can produce), many women can to some extent post-surgery.
There is a much more significant risk when undergoing breast reduction or breast lift surgery than breast augmentation.
What Should I Know About Breastfeeding After Breast Surgery?
Every woman is different, and there is no guarantee that you will be able to nurse after breast surgery (just as there is no guarantee you can even without breast surgery).
Women should be aware of the potential risks surrounding breastfeeding after breast surgery. For example, some mothers won't have a full milk supply. This happens if the breast surgery incisions sever the nerves in the breast stimulated by nursing or if the milk ducts are damaged during surgery. This problem is most common for breast reduction or breast lift procedures.
Additionally, there is no research or reports of problems that indicate it is harmful to breastfeed with silicone or saline implants.
When Should Moms Have Breast Surgery?
While many women have no complications nursing after breast enhancement, it may be best to wait until after the pregnancy and breastfeeding to have breast surgery. Ultimately, this eliminates the risk that your breast surgery will impact your ability to nurse your child. 
Another reason to consider waiting is that pregnancy and breastfeeding often cause your body to change. If you have your breast surgery pre-pregnancy, your results may be impacted during the childbearing process. You might find yourself going back in for a corrective surgery post-childbirth anyways.
If you are interested in undergoing breast enhancement surgery before you have children, you can definitely do so. We recommend you book a consultation with Dr. Agullo to discuss any concerns you may have about breastfeeding and your surgery.
Interested in Learning More?
Dr. Frank Agullo is a board-certified plastic surgeon with years of experience in his field. He helps women get their ideal bodies and their confidence back. Dr. Agullo specializes in procedures for the face, breast, and body. Schedule a consultation with Dr. Frank Agullo by calling 915-590-7900 or filling out our online form.