July 11, 2015 | Breast Augmentation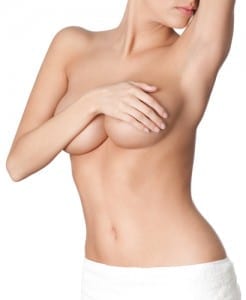 During breast augmentation surgery, you will be under general anesthesia or IV conscious sedation. Breast augmentation is an outpatient procedure that takes approximately one hour to complete. Dr. Agullo will explain the specific techniques he will use for your breasts, but you can expect an incision just above the base crease of your breast, around the areolas, or under the armpit region.
The incisions will vary in length depending on the size of implants you choose (C, D, DD, E cups+), but Dr. Agullo will do everything possible to ensure the least amount of scarring possible. Dr. Agullo offers the use of the Keller Funnel to minimize incision size and decrease the risks of implant contamination, which can lead to infections or capsular contracture. Hence, he will place the incisions in a way that once they heal; it will be very difficult to tell you ever had breast implants except for the new fullness of your breasts and surge in confidence!
You can expect a combination of one or more of these three incisions during breast augmentation:
Axillary: This incision is located in the deepest point of the armpit and is the least noticeable incision mark. Dr. Agullo performs this procedure with the aid of an endoscope, and he can use either silicone or saline implants with placement above or below the muscle using this approach.
Periareolar: This incision is placed at the junction of the lower portion of the areola with the normal breast skin.
Inframammary: This incision is placed directly below the breast, at the location of the inferior breast fold.
Once inside, Dr. Agullo will insert and position the breast implant directly behind the breast tissue (over the muscle) or below the pectoral muscle, depending on the person's body, type of implant, and amount of breast tissue present before augmentation. Dr. Agullo will discuss implant pocket placement at length during your consultation.
Dr. Agullo will then close the incisions with layered sutures in the breast tissue and on the skin. With proper care, the scars will heal into very fine lines and become imperceptible.
If you're interested in enhancing your appearance and want to know which breast augmentation technique is best for you, contact Southwest Plastic Surgery to schedule your consultation. Dr. Frank Agullo is ABPS Board Certified in Plastic Surgery and has extensive experience performing breast augmentation. Call our office today at (915) 590-7900, or fill out our online contact form for more information.