March 28, 2014 | Infant Ear Correction System, Uncategorized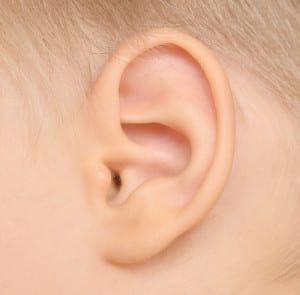 Nearly 20 to 30 percent of babies are born with a deformity of their outer ears; the ears can be pointy, fold over, or even stick out.  Sometimes these deformities will correct on their own, but sadly, up to one third of these cases do not.
Normally, a child would have to live with the ear deformity until about five or six years of age, then undergo painful surgery to have their ears corrected.  In the interim, the child would endure verbal taunts and ridicule until the problem was fixed.  That is, until now.
Thanks to the Ear Well (TM) Infant Ear Correction System, low self-esteem due to problem ears will now be a thing of the past.  This device, fitted by a cosmetic surgeon, takes advantage of the newborn's malleable ear cartilage by reshaping it, then applying gentle, corrective pressure on the ear to help mold the new shape.
The Ear Well is made of high grade plastic and consists of four separate parts:
Cradle – this piece surrounds the outer ear; it sticks to the skin, much like a band aid
Retractors – two types of retractors that hold the ear in the desired shape
Cover – this snaps over the cradle to keep the retractors in place; it has holes that allow ventilation to the ear, preventing moisture build up
Ear Wells are typically worn over a six-to-eight week period.  The ears are examined by the surgeon every couple of weeks to check their condition and progression of the treatment.  Ear Wells should be applied within the first few weeks of life for the most successful outcome; the ear cartilage starts to harden quickly and may be too firm to reshape with the Ear Well after babies reach about six to eight weeks of age.
Unlike cosmetic surgery, Ear Wells are being covered by some insurance companies.
If you are a new mother, first check with your pediatrician. Then if you decide Ear Wells are a good option for your infant, please call Southwest Plastic Surgery at 915.590.7900.