December 13, 2018 | Fat Injections
Many people spend hours a week at the gym trying to rid their bodies of unwanted pockets of fat that accumulate along the abdomen, thighs, buttocks, and back. Maybe the pooch resulted from enjoying a little too much at the holidays, or from pregnancies and childbirth, or perhaps it is left over from previous weight loss. Whatever the cause, this fat is almost always unwelcome, as it interferes with the svelte physique that so many individuals strive for. And while fat on the abdomen, thighs, and buttocks has a bad reputation, it isn't as bad as you think. Fat is not only necessary in some parts of the body, but it can also restore a youthful and rejuvenated appearance.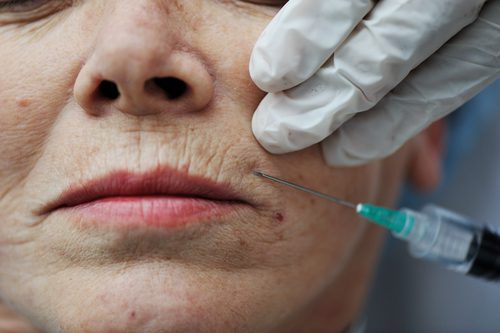 In fact, the presence of facial fat is a necessary aspect of a youthful appearance. When we're young, we all have a certain amount of fat in our cheeks and around our mouths and eyes. As we age, a certain percentage of this fat breaks down, causing lines and wrinkles to form. While there are many different surgical and non-surgical treatment options to address volume loss in the face, there is one treatment that tends to stand out from the rest. This treatment not only enhances the volume of the face but also reduces fat in areas of the body where you may not want it. Fat injections restore a youthful quality to the face using fat from other areas of the body.
How Does Fat Injection Work?
Fat injection is a two-step, minimally invasive process. In the first stage, fat is removed using liposuction from an area of your body that has unwanted excess, usually the abdomen, flanks, thighs, back, buttocks, or upper arms. Once the fat has been taken from the body, it is purified so that only the strongest fat cells remain. These cells are used in the second stage. During stage two, the fat is injected into regions of your face that are experiencing either a loss of volume or the formation of deep creases and wrinkles. These injections require no incisions and are generally well-tolerated and comfortable. The best part of fat injections is that patients can target two cosmetic concerns at once.
What Is NanoFat?
You may have seen Dr. Agullo injecting NanoFat on his social media broadcasts under the handle @RealDrWorldWide. NanoFat is a specially processed fat that is ultra-filtered. This fat is extremely high in stem cells and very smooth. It is ideal for injecting under the thin skin of the eyelids and under-eye region while avoiding unsightly clumps.
What Areas Can Fat Injection Improve?
Facial fat is often lost around the eyes, mouth, lips, temples, jawline and along the cheeks. Fat can be injected into all of these regions to restore volume loss and improve depressed or hollowed features. When injected, the fat fills in the missing spaces, which allows the skin to lay more smoothly. Fat injections are an all-natural approach to restoring a youthful complexion.
If you are interested in learning how fat injections can help you, contact Dr. Agullo by calling (915) 590-7900 to set up a consultation.