March 11, 2021 | Cellulite Treatment, Injectables
3 Minute Read: 
Now Introducing Qwo® Cellulite Reduction Treatment
Do you want to feel comfortable in tight-fitting clothing or at ease at the pool, but puckered patches of skin on your buttocks can make you feel less confident? Fortunately, there is something you can do to reduce the appearance of cellulite.
The dimpled appearance of cellulite in the buttocks is a problem that affects 90 percent of women (and some men). Sadly, the appearance of cellulite is more common in women than men, usually because of the uneven distribution of fat cells, muscle, and connective tissue in both genders. 
There are various factors that appear to be linked with the chance of having cellulite. Among them include hormones, genetics, age as well as dietary and lifestyle factors.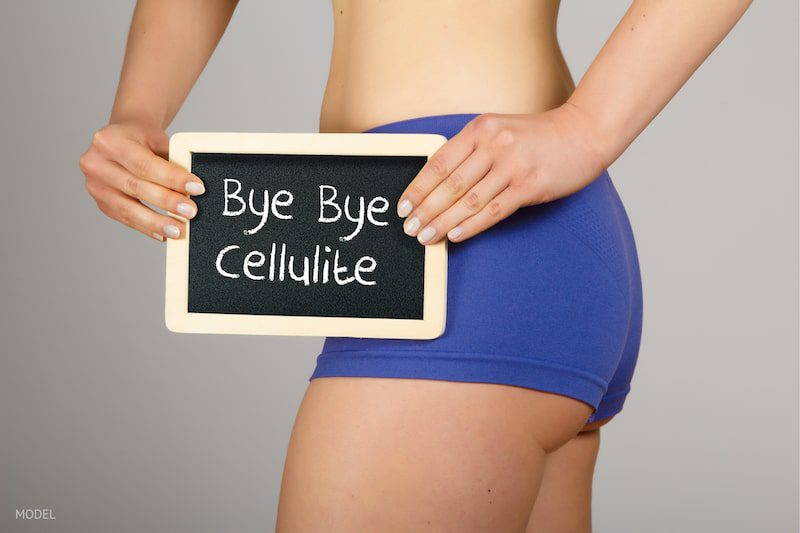 The newly approved Qwo® cellulite reduction injection is the first and only injectable solution for treating moderate to severe cellulite in the buttocks. 
This minimally invasive injectable uses a specialized formula to enzymatically degrade the collagen-rich fibrous septae responsible for the dimpled appearance of cellulite in a woman's buttocks.
Who Needs Qwo® Cellulite Injections?
If you feel self-conscious about cellulite and want a convenient, non-surgical option, Qwo® may be ideal for you. It is effective in treating cellulite of the buttocks and back of the upper thighs.
What Makes Qwo® Different Than Other Cellulite Treatments?
Qwo® is a minimally invasive procedure consisting of the first FDA-approved injection to treat cellulite without any downtime. Many feel it's as easy as getting BOTOX® Cosmetic for the face. 
At The MedSpa at Southwest Plastic Surgery, we also offer Cellfina®, an FDA-approved procedure for the treatment of cellulite with subscion of the dimple-creating bands. Cellfina® usually requires a 24 to 48 hour recovery.  
Complementary therapies for treating cellulite like skin tightening radiofrequency treatments (Morpheus8 and BodyTite® by InMode) and cupping massages can help further improve the appearance of cellulite.
While many lotions, creams, and pills in the market promise great cellulite-smoothing results, most are often ineffective or not ideal for treating moderate to severe complaints. 
How Does Qwo® Work?
The treatment is an in-office procedure that only takes roughly 10 minutes to complete. Once the treatment area has been cleansed, Qwo® is administered, and the process of dissolving the fibrous septae and releasing the tethering effect is started.
The treatment is also believed to redistribute fat cells and stimulate the growth of new collagen. 
Most people will require three Qwo® treatments, delivered three weeks apart from each other to achieve the desired outcome. Your doctor will determine the most appropriate injection schedule, depending on your specific concerns.
After your treatment, patients can expect to experience mild to moderate soreness and bruising that lasts for a few days or weeks. Being a minimally invasive procedure, you can expect to get back to regular activity the day after treatment.
When Will You See Your Qwo® Results?
Visible results may start to become noticeable in as little as three weeks and will continue to improve gradually. Results of a Qwo® treatment usually last for at least a year.
What Is Qwo® Extra?
We offer a special package consisting of three treatment sessions with Qwo® combined with cupping massages and HydraJelly Buttock Mask to help patients get the most correction with their treatments. 
Interested in Learning More?
Say goodbye to cellulite and embrace a smoother-looking and sexy butt with Qwo®. Contact us today at 915-590-7900 or fill our online form to learn more about this exciting new treatment.