October 29, 2014 | Abdominoplasty, Breast Augmentation, Breast Lift, Fat Reduction, Mommy Makeover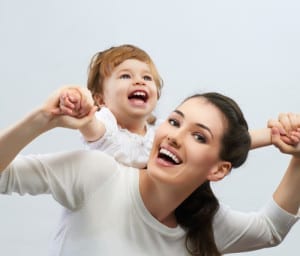 One fear of many mothers is that their personal appearance may suffer after one or more pregnancies. No matter how hard a woman tries to work out or eat healthy, the effects of child bearing can certainly be tough on a woman's body. Some women experience stretching of the hips, abdominal areas and sagging breasts after breastfeeding, or simply from the toll of bearing children. The body loses some of its elasticity after having a baby. Weight gain or having a cesarean can also leave some mothers with a "pooch" right above the line where their pants typically sit, which can feel awkward and make women feel insecure. That is one big reason why mommies often wear baggy shirts and yoga pants, to cover up their former baby bumps.
The Mommy Makeover: A Great Body Contouring Solution for Moms
What is a "Mommy Makeover?" This is a term used for a procedure designed to correct and reposition the changes that occur in a woman's figure after having children. It often combines multiple procedures, such as a tummy tuck, breast augmentation, liposuction and sometimes contouring of the hips, buttocks and thighs.
At Southwest Plastic Surgery in El Paso, TX, the Mommy Makeover is a popular procedure. Using a Vectra 3D tool, our resident Dr. Frank Agullo can show patients what the results will look like on a monitor, which can also be printed. This device is 100% accurate and is a useful tool in the decision of whether or not to pursue a Mommy Makeover.
Dr. Agullo will also discuss your highest areas of concern and he will explain exactly what needs to be done to make these corrections. Using a number of different methods – depending on your personal goals – he can make an accurate assessment and proper recommendations.
Mommy Makeovers Remove Unwanted Fat
Although the joys of motherhood outweigh the cons, one thing many women wish for is to have their sexy, pre-baby body return to its full glory. This is difficult to achieve through diet and exercise alone, especially for busy mothers. Moms often feel embarrassed by their bodies after having little ones and wear things to "cover up" the fat, rather than being proud of the way they look as a Mom.
Getting a Mommy Makeover is not as bad as it sounds, and most women are thrilled with the results and newfound confidence. Schedule a consultation with Southwest Plastic Surgery to see what your post baby body can really look like! Call (915) 590-7900 to talk to our caring staff.