October 22, 2014 | Brazilian Butt Lift, Buttock Augmentation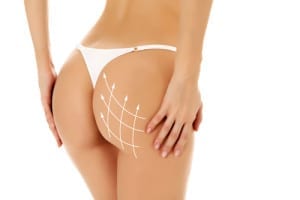 Have you ever wondered how models, actresses and Hollywood icons get those perfectly round, beautiful derrieres? The kind that "sit up" and look good in dresses, jeans and bikinis? Were they born to look perfect, or how do they do it?
Breast augmentations have been done for years, but only within the past five years have the numbers of women going in to get a Brazilian Butt lift – also known as a butt augmentation or butt implant surgery – steadily increased.
Oh My Gawd, Look at Her Butt!
It was 1992 when Sir Mix-A-Lot first released his hit, "Baby Got Back" and thus began the era of glamorizing a woman's butt, rather than hiding it. Before then, it used to be shameful to have a big but, but according to an NBC News Story in Feb. of 2014, "Americans like big butts, the numbers cannot lie!"
The statistics released by the American Society of Plastic Surgeons (ASPS) reveals that each year, the number of butt augmentations across the country has continued rising, going up from 8,500 in 2012 to almost 10,000 just last year in 2013. This has gone way up from the year 2000, when only 1,356 women in the U.S. received a butt lift, and at that time, there was no such thing as butt implants.
Plastic surgeons are seeing Brazilian Butt lift requests far more frequently. In El Paso, TX and Las Cruces, NM, the offices of Southwest Plastic Surgery are performing numerous Brazilian Butt Lifts per month and the number keeps climbing.
How Much Do Butt Augmentations Cost?
Basing it on national averages, a typical Brazilian Butt Lift (aka – butt augmentation) with fat grafting is just over $4,000, while butt lifts cost about $4,500 and butt implants hover at about $4,300. This is not a set price; however, the price you will pay to have a Brazilian Butt Lift varies depending on where you live. In Southwest Texas, the cost runs between $3,900 – $4,900 for each individual on a case-by-case basis.
It is best to get an estimate by visiting Southwest Plastic Surgery in El Paso for a consultation, where board-certified Dr. Frank Agullo will explain everything to you and show you what your potential butt lift can look like. Using a clever, Vectra 3D Imaging System, the outcome will be revealed on a live computer monitor.
Some of the costs include:
•    Anesthesia
•    Surgeon's fee
•    Facility or hospital costs
•    Post-surgery garments/aids
•    Special devices or pillows needed for recovery
•    Lab tests & monitoring
•    Prescriptions
If you want to get that curvy, sexy booty and feel great about your curvaceous self, call Southwest Plastic Surgery at (915) 590-7900 to see if a Brazilian Butt Lift might be the perfect procedure for your needs.