May 07, 2014 | Hair Transplant
Nearly a third of all males in the U.S. are dealing with the embarrassment of hair loss in some way. Thankfully, surgeons like Dr. Frank Agullo from the El Paso area have achieved a solution to help men with this common hair loss dilemma.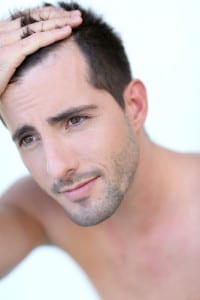 If you are wondering how the phenomenon of hair loss (known as alopecia in technical terms) occurs, the causes can be attributed mostly to DNA. Yes, your genetic makeup certainly plays a majority, but other factors can be linked to stress, improper diet, your environment or even wearing a hat or helmet a lot over a period of time. It has been noted that hair loss also affects many women.
Nevertheless, most men's hair loss begins at a hormonal level. The hormone DHT (dihydrotesterone) causes sensitivity in follicles that have a tendency to make your hair shrink or shrivel. So, what can be done if the reason is hereditary?
At Southwest Plastic Surgery, Dr. Agullo and his team offer a number of solutions for hair loss. Scalp reductions, hair bearing flaps and other methods. Most pharmaceutical hair loss remedies have unknown ways of halting or repairing hair loss, which yields only moderate and rather slow results. Over-the-counter treatments – such as the topical cream Rogaine or oral finasterides like Propecia – involve a long term commitment. This method is fine if you have the patience, but if you desire faster results, then this is not ideal. Topical medicines can take a while before they take effect; in some cases years and then with still sparse hair growth.
In a recent article he wrote for El Paso Physician, Dr. Frank Agullo addresses current treatment options for male pattern hair loss, also called "baldness" in layman's terms. His conclusion, along with four of his industry colleagues, was that; "Pharmacological treatments are effective in halting hair loss and producing a mild amount of hair growth. Hair transplantation remains the gold standard for replacing lost hair. A combination of both modalities translates to better results."
Cosmetic Surgery Is a Great Solution for Hair Loss in Texas!
At Southwest Plastic Surgery, you will find advanced surgical techniques that can enhance or reshape your hairline, so that the baldness will disappear. This method is very effective in eliminating hair loss. Another method we use are infused hair implants, which are also known as hair-beaing flaps. They can be extremely effective to stimulate hair growth, in conjunction with topical creams. These procedures vary, depending on how well the patient does during the healing process, but patients can expect to retain anywhere from 93% to 97% of the implanted hair. The result? Simply outstanding.
While both pharmaceutical and surgical methods have been proven to work in most cases, it's the act of both techniques working together that has given the best results. If you are considering taking action against hair loss, then contact Dr. Agullo at Southwest Plastic Surgery in El Paso Texas for a consultation on the options that may be most suitable for your personal needs.