May 05, 2016 | Blepharoplasty, Brow Lift, Facelift, Fat Injections, Lip Augmentation, Neck Lift, Protein Rich Plasma, Rhinoplasty
If time and circumstances have given you crow's feet, sagging upper eyelids, and permanent bags under your eyes, you may look older than you feel. Blepharoplasty (eyelid surgery) can erase the effects of time, gravity, and stress to bring out a more youthful and attractive appearance.
No More Sagging Skin or Droopy Eyelids
Sagging skin is a common sign of aging in the upper eyelids. When it causes eyelid hooding, sagging skin may lead to vision impairment. Droopy lids can make you look like you are always tired, and excess skin may also make it more difficult to apply eye makeup. During eyelid surgery, Dr. Agullo can remove excess upper eyelid skin. This creates a more youthful and refreshed appearance and eliminates eyelid hooding for improved sight lines.
Fewer Wrinkles and Creases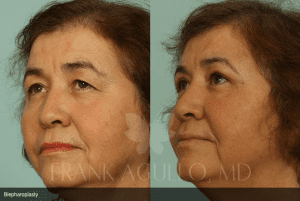 Wrinkles and creases are commonly found around the eyes of individuals of all ages. However, excess wrinkles portray a more noticeably aged appearance. Blepharoplasty tightens the delicate tissues around the eyes to minimize wrinkles such as brow furrows and crow's feet so that the eyes appear more naturally youthful.
No More Bags or Dark Circles Under Your Eyes
Another common sign of aging is when bags or dark circles appear permanently etched beneath the eyes. By trimming away excess fat storage from under the eye, Dr. Agullo can eliminate these dark circles or puffy bags to soften your appearance. This will help you to look more awake and refreshed.
Easily Combined With Other Procedures
Many individuals who desire blepharoplasty would also benefit from additional facial rejuvenation procedures. Blepharoplasty can easily be combined with other procedures to rejuvenate more than just the eyes. Often, patients will combine blepharoplasty with facelift surgery, fat injections, lip augmentation, rhinoplasty, a brow lift, a neck lift, or protein-rich plasma (PRP) injections. Combining eyelid surgery with one or more of these procedures can maximize your time and budget and will also give you a whole new look all at once.
Look and Feel Many Years Younger
As the eyes are one of the most prominent facial features, aging eyes will age your whole appearance. Simply undergoing eyelid surgery can make you look and feel many years younger. In fact, many of Dr. Agullo's patients have indicated that blepharoplasty has led them to receive many compliments about their age. Blepharoplasty can improve your appearance, enhance your confidence and self-esteem, and help you to look and feel younger.
To revitalize your eyes and refresh your appearance, schedule your personal consultation with board-certified plastic surgeon Dr. Frank Agullo in El Paso. Call our office at (915) 590-7900 or complete our online contact form to schedule your appointment today.