July 01, 2021 | Arm Lift, BodyTite®
3 Minute Read: 
It's officially a wedding season, and with the warm months ahead, you may want to wear a sleeveless wedding dress. 
If you have loose skin and fat around the upper arms, you may consider avoiding a sleeveless wedding dress because you are worried about how you will look. But it's your wedding — you deserve to wear your dream dress and look the way you want in time for your big day and honeymoon.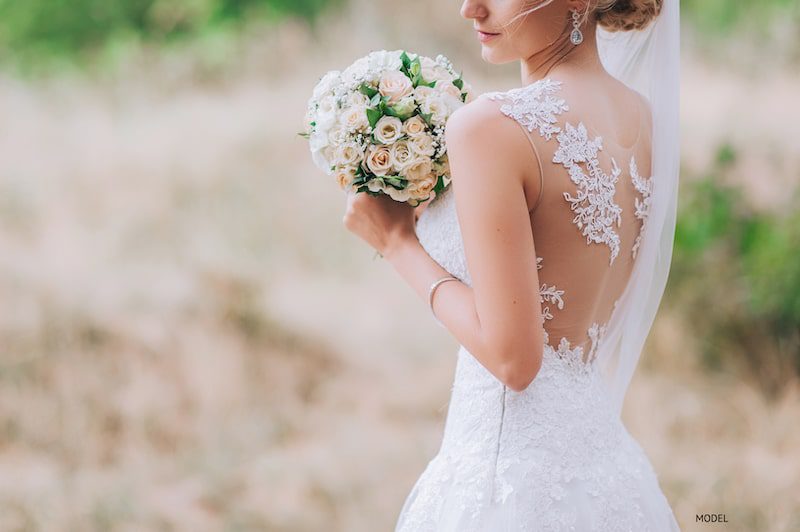 Whether you have bothersome skin laxity due to significant weight loss or aging, or you tend to accumulate fat due to genetics, you have a few tightening and toning options to choose from. 
At Agullo Plastic Surgery, we offer arm lift surgery and BodyTite® treatment options to create a better-defined arm contour.
Go Sleeveless With Confidence With an Arm Lift
Arm lift surgery, also known as brachioplasty, sculpts and reshapes your upper arm area to create a smoother and more youthful appearance. Like other surgical lifts, the procedure removes excess skin and fat to eliminate dimpling, drooping, and downward hanging skin in the upper arm area. Arm liposuction is often combined to remove stubborn fatty deposits.
Further, supportive tissues are reshaped to create more shapely and defined arms. This also helps to expose your arm muscles, which may have been previously hidden by excess skin and fat pockets. 
With this transformation, you will feel confident to rock sleeveless dresses and tops during this exciting moment of your life.
Tone Your Arms With BodyTite®
Have you been eyeing that beautiful sleeveless wedding dress and want to show off your arms in it? 
While brachioplasty transforms your arms like no other procedure, not everyone is eager (or has the time allotted) to undergo surgery. A newer and minimally invasive procedure called BodyTite® targets areas of localized fat and loose skin to produce the results you desire.
BodyTite® is ideal for individuals with moderate amounts of fat or skin laxity and those looking for a scarless procedure with minimal downtime. It uses the power of radiofrequency energy to remodel fat and skin so you can flaunt your arms with confidence.
Which Arm Contouring Procedure Is Right for Me?
During our consultation, Dr. Agullo will take the time to review your concerns and recommend a specific plan based on your concerns and goals. 
In many cases, arm lift surgery is performed along with other procedures such as breast surgery or tummy tuck surgery to reshape other body areas.
Preparing for a Summer Wedding?
Your wedding is one of the few times in your life when all eyes will be focused on you. You want to look and feel your best. 
Dr. Agullo has the experience to safely and accurately create the most satisfying results for a dramatically improved arm appearance. Feel free to contact us at 915-590-7900 or fill our online form to schedule a consultation and learn more about our arm contouring options. Let us help you determine if you are the right candidate.