June 01, 2021 | Beard Transplant, Hair Transplant
2 Minute Read: 
Why More Men Are Seeking Beards
Are you struggling to grow a beard? 
Perhaps your beard is patchy or hard to grow due to genes, injury, or scarring. Whatever the scenario, it is reassuring to know that you can still enjoy a handsome stubble beard with a beard transplant.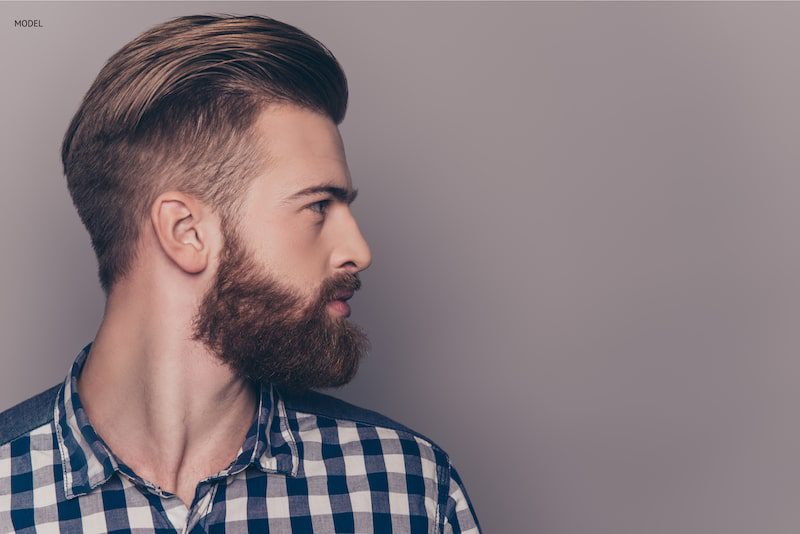 Why Do Men Choose Beard Transplants?
Facial hair transplants are becoming an increasingly popular procedure for restoring hair to areas of the face where hair is sparse or non-existent. 
For many, beards are a symbol of masculinity and good looks. Some men notice that a good beard sets them apart, helping to frame the face and highlight other facial features.
When a beard transplant is performed correctly, it creates incredible results that look extremely natural. Today's advanced facial hair transplant procedures use state-of-the-art techniques to extract hair from the donor area (usually from the back of the head) and insert it into the target area with minimal scarring.
Beard Transplants: The New Trend in Hair Restoration
Facial hair is currently hot. We have a growing number of A-Listers who sport perfectly manicured beards, further making the beard aesthetic more appealing. From David Beckham to Drake and the likes of Leonardo DiCaprio and Kit Harington, the list is long.
There are various reasons why more men are seeking a beard. Whether it is a result of primal instincts or a need to move with fashion trends, the ability to grow facial hair strongly influences people's judgments on a man's maturity and masculinity. 
Previous studies have supported this notion, establishing that the more facial hair on a man, the more attractive women found them. Most women showed the strongest preference for heavy stubble, followed by light stubble and full beards. A good beard is hard to miss. Everyone notices it, which, in turn, boosts confidence.
At times, the goal is to enhance visual cues — beards simply look cool. Whether you are going for a more groomed approach or just want to let the beard run wild, a beard will most often give you a presence that cannot be replicated in any other way.
For some guys, having patchy or no hair on the beards can come in the way of enjoying such benefits. Fortunately, it is possible to grow a thicker and fuller beard with a beard transplant.
Interested in Getting Facial Hair?
Whatever makes you opt for a beard transplant, it is all about feeling and looking like your best self. 
Dr. Agullo can help you enhance your masculinity with facial hair transplants for the beard, sideburn, and mustache areas. Contact us at 915-590-7900 or fill our online form today to schedule a consultation and learn more about the procedure.