June 02, 2015 | Breast Augmentation, Breast Lift, Fat Transfer
Having small or misshapen breasts may leave you feeling less than confident in your body. Breast enhancement procedures can increase the size and correct the shape and position of your breasts. In today's market, there are more ways than ever to gain the bigger, shapely bust you desire. Having options available to you helps ensure that you reach the aesthetic look you want and need.
Breast Augmentation
Breast augmentation uses implants to achieve the size increase you desire. Saline or silicone implants are inserted through incisions into the breast pockets. You can choose subglandular (over the muscle) or subpectoral (under the muscle) placement depending on the look you wish to create with your augmentation.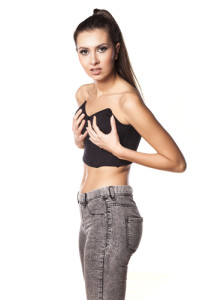 Pros
Can produce a dramatic increase in breast size
Reliable results
Long-term enhancement
Achieves results with a single procedure (unless complications occur)
Cons
Uses synthetic material
May leave scarring
Natural Enhancement
Breast Fat transfer is a technique that has been perfected only fairly recently. Unwanted fat is harvested from trouble areas of the body such as the abdomen, hips, or thighs. The fat is purified and injected in layers into the breasts. Fat transfer is primarily for women seeking subtle enhancement. It can be used to reshape the breasts, and you can achieve a full cup size increase through one procedure.
Pros
Uses 100 percent biological material
Results look and feel natural
Fat reduction from other locations
Minimal scarring
Cons
Results vary from patient to patient
Multiple treatments may be necessary
Does not provide a dramatic size change
Breast Lift
Breast lifts are performed on women with mild to severe breast ptosis (sagging). Breast sagging can occur due to gravity, aging, pregnancy, or weight loss. Through incisions created around the nipples, excess tissue is removed, and what remains is sutured into place. This helps the breasts sit in a higher, more perky position on the chest.
Pros
Corrects sagging
Provides natural results
When combined with augmentation, helps prevent double-bubble deformity
Cons
Does not increase size
May result in visible scarring
Breast tissue is still subject to causes of sagging like future weight gain and pregnancy
Combining Procedures
You can choose to combine different breast procedures to gain the results you desire. Fat transfer can be utilized by women with thin breast tissue who desire implants. If the tissue is too thin, the outline of the implant may be visible through the skin. Transferring fat around the edges of the implant can help camouflage its outline.
Women who desire a size increase but also have tissue sagging should consider combining a lift with their augmentation. Lifting and securing the breast tissue around the implants helps prevent complications such as double-bubble deformity and bottoming out.

If you want to benefit from the confidence boost of breast enhancement, schedule your consultation with Dr. Agullo today. Together you and he can decide which breast procedure will help you achieve the look you desire. Call our office today at (915) 590-7900, or fill out our online contact form here for more information.