December 31, 2015 | Anti-Aging, Blapharoplasty, Senior Plastic Surgery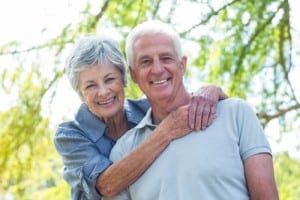 Silver hair may be trending for senior women, but wrinkles and blemishes of any other kind are still unacceptable. But since the fountain of youth doesn't really exist (as far as we know), aging is inevitable for everyone. Many seniors are choosing to go out fighting, and more are choosing to undergo plastic surgery than ever before.
According to the American Society of Aesthetic Plastic Surgery or ASAPS, of the 10 million plus surgeries performed in the US in 2014, one quarter of those were done on people aged 51 to 64. Furthermore, a whopping eight percent of these procedures were done on patients over the age of 65. People are living longer as they continue to adopt healthier lifestyles and improved health care, and they want to look as good as they feel. Others may feel the pressure of the dog-eat-dog corporate world or even from the competitive dating world. What's more, these numbers are expected to continue to rise as the generation of Baby Boomers age, over time.
Why the spike in cultural popularity? With healthier lifestyles, people are living longer and they want to look as good as they feel. Some feel the pressures of a cut-throat work environment or the competitive dating game. While reasons vary, experts agree the numbers will accelerate as baby boomers age. A long list of procedures that seniors most often request includes facelifts, breast lifts, eyelid lifts, liposuction, and tummy tucks. The trend has many seniors asking when plastic surgery is no longer safe for them to undertake.
According to Dr. Frank Agullo, board-certified plastic surgeon at Southwest Plastic Surgery of El Paso, TX, it is not an individual's age that increases the risk of surgery, but their overall health that matters most. Is the patient on any type of medications or do they have any pre-existing medical conditions that would interfere with the healing process? Even though plastic surgery is safer than ever before, there are a few factors to consider:
Taking Aspirin or Blood Thinners. These are frequently prescribed to patients who have suffered from heart conditions because they thin out the blood. Careful assessment and clearance are important prior to going through with a surgical procedure.
A Diabetic Patient. Patients with diabetes are at a much greater risk of infections or healing problems. It is important that the patient be well controlled prior to going through with a plastic surgery procedure.
Other Health Issues. There are many health conditions not mentioned that may possible potential hazards or conflicts with the desire to get plastic surgery. It is best to ask the doctor and be as honest as possible during the consultation process. Dr. Agullo will work with your medical team to assess if you are a good candidate.
"It is understandable that people want to look good. Those are great reasons to consider cosmetic alterations or plastic surgery. Safety is the most important factor in plastic surgery, unnecessary risks should not be taken," says Dr. Agullo. He recommends coming in for a consultation and getting an evaluation from their primary health care provider.
You can schedule a consultation with Dr. Agullo at Southwest Plastic Surgery. Call 915-590-7900 or fill out our online contact form to set something up today!