May 03, 2021 | Fuller Head of Hair, Hair Treatment
3 Minute Read: 
Your hair can feel like a defining part of your overall appearance, so it can be exceptionally hard for women to cope with female hair loss. Hair loss in women is when a female experiences unexpected, heavy loss of hair. The condition is sometimes known as alopecia.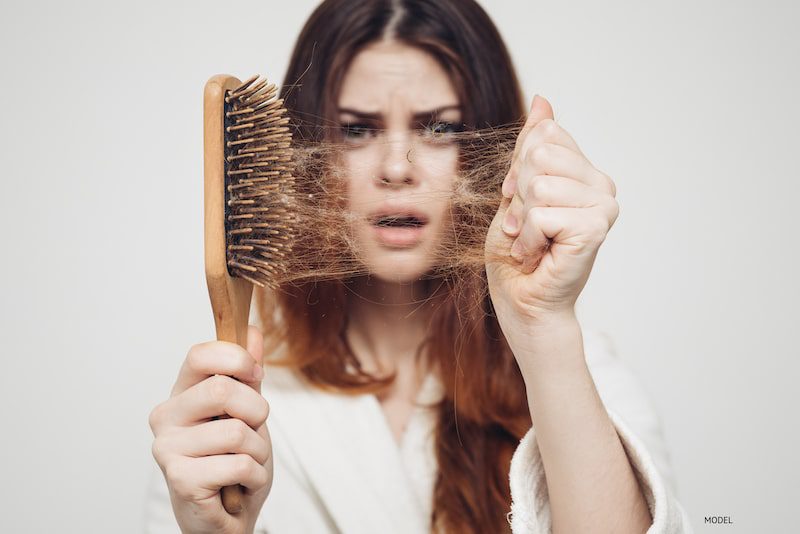 Most women lose an average of 50 to 100 strands of hair per day. If a woman loses more than this or sees a decrease in hair growth, it can cause severe hair thinning on the scalp. 
It's estimated that about 30 million women in the United States experience serious hair loss.
What Causes Female Hair Loss?
Some of the reasons someone a woman might experience hair loss includes:
Genetics or female-pattern hair loss (FPHL)

Pregnancy

Thyroid conditions

Anemia

Autoimmune diseases

Polycystic ovary syndrome (PCOS)

Skin conditions such as seborrheic dermatitis or psoriasis

Menopause (in some women)

Rapid weight loss

Restrictive diets

Vitamin deficiencies
Some medications can cause hair loss as well. Most notably, drugs or treatments with toxic substances, such as chemotherapy or radiation, are at a higher risk of causing hair loss. 
If hair loss is a potential side effect of your medication, it should say so on the medication bottle.
FiVe Ways Women Can Treat Hair Loss
1. Camouflage
One option is to simply hide the hair loss. You can do this with clever hairstyles, "teasing" your hair to fill bald spots, or wearing partial wigs (toppers) or extensions that fill in the thinning hair. 
Of course, this solution only hides the problem and does not fix it. Additionally, this is only an option if you have enough hair left to hide thinning areas.
2. Hair-Loss Medication
There is hair loss medication out there. Some of the more popular brands include Rogaine and Propecia. Hair-loss medication is generally recommended for women who have just started to lose their hair and still have time to restore it.
3. Laser Therapy
Laser hair therapy concentrates light on the hair follicle to stimulate thicker new hair growth. This approach is best for women who have experienced widespread thinning on their heads.
4. Platelet Rich Plasma (PRP)
This is probably the most effective and popular treatment for hair loss. PRP is obtained from your own blood and contains many concentrated growth factors. These are injected into the affected areas of the scalp to promote healthier follicles. These growth factors "wake-up" the hair follicles that are shutting down. 
The recommended protocol is one therapy per month for four months.
5. Surgical Hair Restoration
Surgical hair restoration typically comes in two options: Follicular Unit Extraction (FUE) and Follicular Unit Transplantation (FUT). 
These options are usually reserved for women who have already experienced drastic hair loss and have no other options. Surgery is an effective way to rejuvenate your appearance.
Book Your Hair Loss Consultation
If you are ready to address your female hair loss, schedule a consultation with Dr. Frank Agullo today. Dr. Agullo will examine your situation and evaluate if surgical hair restoration is suitable for you. 
To book an appointment, call 915-590-7900 or fill out this form.