June 11, 2014 | Breast Augmentation, Fat Injections, Liposuction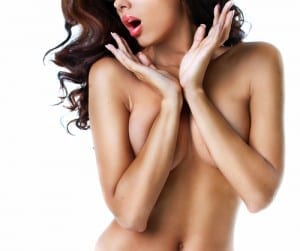 With nearly 300,000 individual procedures performed in the last year alone, breast augmentation has long been one of the most admired cosmetic procedures in plastic surgery. While traditional breast augmentation adds volume and shape to the breasts by inserting saline or silicone implants, there is another enhancement method that is seeing a steady rise in popularity. Known as breast augmentation using fat transfer (or fat injections), many women are electing to have their breast augmentation performed using this safe and effective procedure.
Advantages of Fat Transfer
Breast enhancement using fat transfer offers many advantages over traditional breast augmentation procedures using implants:
Minimally invasive (no large incisions)
Naturally enhances breasts with the added benefit of liposuction to other areas of concern (e.g., abdomen, "love handles," hips, arms)
Eliminates risks associated with implants
Less downtime
Immediate results
Fat transfer is performed by using liposuction to remove excess fat tissue from areas of the body (e.g., abdomen, hips, thighs). After the excess fat is removed, the fat cells are purified and then evenly distributed in the breasts through a series of injections.
As the fat cells are injected into the body, they immediately begin to integrate into the surrounding tissues. In most cases, patients can expect to improve the size of their breasts by at least a whole cup size, although the results vary depending on each woman's unique body makeup. A fat transfer is expected to produce long-lasting results, but patients who wish to increase their breast size further may need to repeat the procedure.
To find out if you are a candidate for breast augmentation using fat transfer, feel free to call our El Paso, TX office at (915) 590-7900 or our Las Cruces, NM office at (575) 520-5041. For your convenience, you may also contact us by filling out our online contact form. Dr. Frank Agullo has extensive experience in performing fat transfer treatments and is dedicated to helping you get a look about which you can feel great. We look forward to seeing you soon!