July 01, 2015 | Breast Augmentation, Breast Lift, Liposuction, Mommy Makeover, Tummy Tuck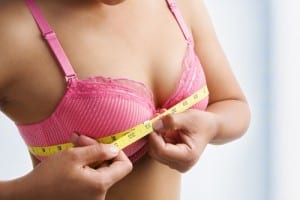 For some women, having a smaller breast size than what is considered "ideal" can lead to a lack of confidence or dissatisfaction in appearance. If you wish your breasts were bigger, fuller and rounder, then you may wish to consider having a breast augmentation.
Before weighing the pros and cons, it is important to ask yourself why you feel the need to have bigger breasts. Breast augmentation is a very personalized procedure and should not be done to fulfill someone else's requests (such as a lover or spouse). Rather, getting breast augmentation should be done after some self-reflection and not just to fit into any "ideal image" placed upon you by another person or by society.
Who is right for breast augmentation?
Breast Augmentation surgery is designed to help women increase the fullness, roundness and projection of their breasts. It is a great way to bring more balance and voluptuousness to your figure, which also improves self-confidence. For some women, hiding behind small breasts is associated with a poor self-esteem, the brunt of ridicule or simply not enjoying wearing certain wardrobe essentials that women with fuller breasts can. Evening gowns, bathing suits, low cut or revealing shirts, or even tight-fitting tops and sweaters can look better with augmented breasts.
You will be a good candidate for breast augmentation if you:
Have fully developed breasts
Are physically and mentally healthy
Feel like your breasts are too small
No longer like the shape of your breasts after aging, pregnancy or weight loss
Have breasts that are not the same shape or size
Have one or both breasts underdeveloped
Have realistic expectations
What breast procedures are commonly combined?
If you are looking for a gravity-defying experience, breast augmentation is not designed to improve severely sagging or drooping breasts. Instead, a breast lift may be needed in conjunction with a breast augmentation if you want to go for a lift and fullness at the same time. Depending on your surgeon, it may be so that you can have a breast lift performed on the same day as your breast augmentation procedure; this is something to discuss with your doctor.
Breast augmentation is sometimes combined with other procedures often termed a "Mommy Makeover." This surgery includes a combination of breast augmentation and/or breast lift with a tummy tuck and/or liposuction. By combining both procedures during the same surgery, the patient benefits from a single recovery, whole body contour improvement, and a reduced cost compared to performing the procedures separately.
If you're interested in enhancing your appearance and improving your confidence with breast augmentation, contact Southwest Plastic Surgery to schedule your consultation. Dr. Frank Agullo is ABPS Board Certified in Plastic Surgery and has extensive experience in breast, face, and body procedures. Call our office today at (915) 590-7900, or fill out our online contact form for more information.