January 14, 2016 | Cellulite Treatment, New Technologies, Plastic Surgery News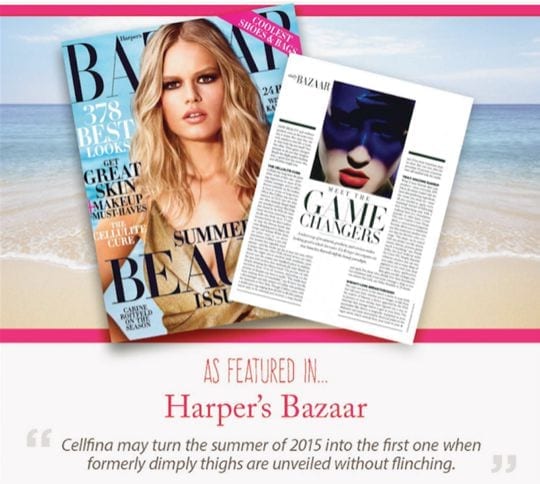 Getting rid of cellulite has been a task full of empty promises or only temporary results. Now there's an easy and proven way to get rid of your cellulite, and it's called Cellfina.
Cellfina is an FDA cleared cellulite treatment that is minimally invasive. There's no need for extensive surgery or general anesthesia during the process. In fact, all we do is numb the area and treat it, and you can go about your business as usual!
With no downtime and no invasive surgery, Cellfina is a great way to boost your self-esteem and improve your appearance in that new bathing suit.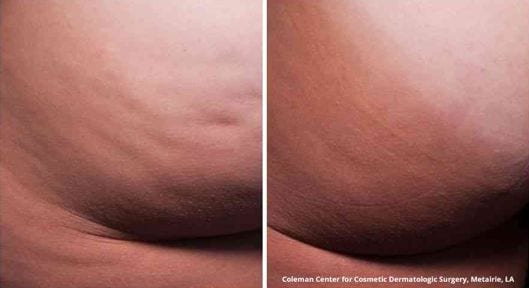 Is Cellfina Right for Me?
If you're looking for an alternative to other types of cellulite treatments, then it's worth asking us if Cellfina is right for you. We recommend Cellfina for people who want to smooth and define areas of dimpled tissues when diet and exercise haven't quite done the trick. Cellfina is perfect for areas like the tummy, thighs, and buttocks.
Cellfina is a great option for people who:
Have Busy Lifestyles
Want a Minimally Invasive Cellulite Alternative
Choose to Avoid Conventional Surgery
Are Nervous About Cellulite Treatment
We're sure that you'll love the short procedure and fast recovery time! Most of our patients complete their Cellfina procedure in about an hour, right here at The Med Spa at Southwest Plastic Surgery.
How it Works
First, we pinpoint the areas of cellulite that we want to address. Then a smooth suction device raises the dimpled area for treatment. A mild numbing agent is applied to prevent any discomfort during the process. Once the Cellfina treatment is complete, you can go right back to whatever else is on your schedule for the day. Whether it's heading back to the office, a PTO meeting, or running errands.
The Cellfina process erases the appearance of dimpling by targeting the rigid fibers that extend through the fatty cellulite tissues. As these tight fibers are released, the tissues become less stippled and smoother over the surface, erasing the appearance of cellulite.
Cellfina is unique, in that the results from the procedure are typically seen within the first three days. Gradually, you'll see the areas of dimpling begin to appear smoother and more even with your surrounding skin. In fact, most of our patients continue to see continued improvement over the course of about three months.
Results That Last
As a minimally invasive procedure, you might not expect results to last very long – but you would be wrong. In over 100% of clinical trials, Cellfina results lasted for over one year, but most treatments have lasted for as long as two years!
Why Choose Cellfina?
Cellfina is the only procedure to effectively treat cellulite for long-term results. Other more invasive treatments such as Cellulaze have provided inconsistent results. Less invasive treatments have only been able to provide temporary results.
After Cellfina treatment, you'll have the confidence to wear those shorter jogging shorts, a swimsuit at the pool, or just feel better in your favorite clothes. Plus, you'll be able to avoid invasive, lengthier surgeries that offer similar results.
If you're a busy professional, mother, or have an out of town trip planned – then Cellfina is a perfect way to boost your confidence without more invasive traditional treatment. Our patients love how Cellfina can help them get the boost of self-confidence that they really deserve.
Dr. Frank Agullo at Southwest Plastic Surgery.
It's important that you choose only a Cellfina certified doctor to complete your procedure. Dr. Agullo at Southwest Surgery Center in El Paso provides the cellulite treatment alternative right here in our office. Whether you're in West Texas, Northern Mexico or New Mexico, our convenient location makes it easy to work the fast cellulite treatment into your week!
Dr. Agullo has been voted one of the Best Plastic and Cosmetic Surgeons (Plastic Surgery Practice magazine,) as well as a Rising Star Superdoctor (Texas Monthly.) His eye for detail and attentive patient care make your trip to The Med Spa at Southwest Plastic Surgery one that is as relaxing as possible.
Stop trying to hide your cellulite when you could erase it by this weekend with Cellfina. Call Southwest Plastic Surgery today to schedule a no-pressure consultation with Dr. Frank Agullo right away!
To schedule your consultation with Dr. Frank Agullo, contact Southwest Plastic Surgery today. Call our El Paso, TX office at 915-590-7900 or our Las Cruces, NM office at 575-520-5041, or fill out our online contact form for more information.