June 10, 2018 | Cellulite Treatment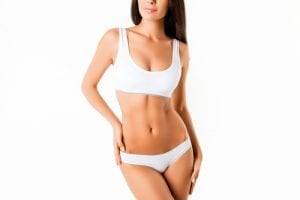 Cellulite can mar even the most in-shape figure. The telltale dimples of cellulite are apparent to anyone who looks at you and can prevent you from feeling comfortable wearing shorts, skirts, and even bathing suits. If you're hiding your body because you're frustrated with the appearance of cellulite, then you should consider Cellfina®, the only FDA-cleared, minimally invasive procedure to reduce the appearance of cellulite. Not only does it have high satisfaction rates from patients, but it's also been proven to rid your body of cellulite for at least three years. Dr. Agullo offers it as part of his MedSpa, where you can rejuvenate your body.
What Is Cellulite?
Cellulite shows itself as small dimples across the skin. Most recognized on the thighs, it can also appear on the buttocks and abdomen. Cellulite is caused when fat deposits protrude through the bands of connective tissue beneath the skin. It's more common in women due to differences in the way that fat and tissue are distributed throughout a woman's body, though cellulite can be seen on men's bodies, as well.
How Can Cellfina® Help?
Cellfina® works by addressing the connective bands that are located beneath the skin. As these bands are pulled taut, they pull the skin down, causing the dimpling effect that everyone recognizes as cellulite. The Cellfina® treatment severs these bands, releasing the tension and smoothing out the surface of the skin.
The Procedure
The procedure is performed in Dr. Agullo's office and does not require any anesthesia. At the beginning of the treatment, he will mark the targeted areas of cellulite and give an injection of a numbing agent to keep you comfortable throughout the procedure. He will then make a series of injections along the treatment sites. The process will take less than one hour, and you will have smooth skin once again!
Results and Recovery
You will begin to notice results within three days of your procedure, but the area continues to improve over time. In clinical studies, results have lasted as long as three years, but Cellfina® is so confident in the procedure that if your cellulite returns within the first year, they will cover an additional treatment for you!
You will experience a mild recovery with this type of procedure. You should take it easy the first full day after your treatment, but you can resume your normal, daily activities after that time. Swelling and bruising are normal and temporary, though bruising often subsides later than swelling. Any discomfort you may feel can be treated with over-the-counter pain medication.
For more information about how Cellfina® can benefit you, schedule your consultation with Dr. Agullo by calling our office at (915) 590-7900. We look forward to working with you!