May 19, 2015 | Arm Lift, Brachioplasty, Liposuction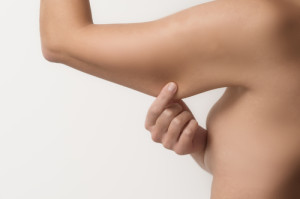 Something strange happens as we age, and that is the loss of skin elasticity. Even the strongest man or woman in the world might find themselves with extra skin underneath the arms, particularly in the triceps area. Moms know they have superhuman strength from lifting their babies and children, but somehow gravity does little to back this up; after a certain age range.
You may have heard many terms for the "arm flab" just underneath the biceps. Some call them "Bat Wings" and Oprah calls them "Ham Hocks". There's even a new term called "Bye Bye Arms". All of these derogatory terms refer to the flaps of skin and fat that keep waving long after you wave goodbye! Even those who are considered fit, or at least, not fat, may notice this problem as the skin loses its firmness.
Dr. Frank Agullo of Southwest Plastic Surgery of El Paso, TX and Las Cruces, NM can get your arms back in top condition! Through either a brachioplasty – which is also known as an upper arm lift – or liposuction, the skin underneath the arms can be liposuctioned and trimmed. This is especially great for people who may have lost significant weight, or who have mid-to-moderate underarm sagging.
Another alternative procedure has also come into the limelight. It's called "Vanquish" and works best for people who still have good skin elasticity, but who have some fat excess they want to get rid of. Vanquish is minimally invasive and can be done in about an hour, per arm. It does not hurt and patients can leave and return to their regular day-to-day activities by the next day!
One last "arm flab" solution at Agullo Plastic Surgery is done through the use of ultrasound technology. Ulthera is a device that uses magnetic pulses and different frequencies to tighten the skin. This option is great for people who don't have a lot of fat, but who just want to tighten up the underarm areas to eliminate those Bat Wings. Ulthera works by stimulating the collagen in the affected zones. Patients may see a substantial reduction in the arm circumference over a period of several treatments. The warm sensation is also soothing and relaxing, with no pain or downtime, plus no worry about damaging the underlying nerves.
Dr. Agullo is a board-certified, award-winning plastic surgeon who can help you get your arm flab under control, so you can feel confident again wearing sundresses, beachwear and other favorite summer styles! Call 915-590-7900 to schedule a consultation and see if any of these arm reduction solutions are right for you.