January 28, 2016 | Liposuction
One of the most common questions that my patients ask me, is how long do the results of their liposuction treatment last? That is, does the fat "grow back" or ever leave you with uneven body contour if you gain weight in the future?
Maintain Your Results with a Balanced Diet
Keep you your current diet and exercise routine to maintain a steady body weight. While the fatty tissues removed during liposuction are gone for good – it's still possible to gain weight. This can allow other areas of fatty tissues to continue to grow and enlarge. Fortunately, swelling won't be uneven or cause disproportionate budges – but it will be a side effect of eating more calories than you burn up throughout the day.
Thankfully, your liposuction results can last as long as you take care of your body. I don't ever want my patients to think "Well, I've had liposuction done – now I can do whatever I want!" This simply isn't the case. You'll want to closely watch your lifestyle choices to be sure they don't put you right back where you were to start with.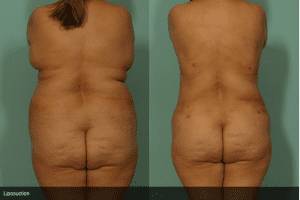 How Liposuction Works
Some of the reasons why people get confused about liposuction is not fully understanding the way it works.
Traditional liposuction uses anesthetic solutions to numb and swell the fatty tissue, and then a thin tool is used to remove excess fat in the area.
Some surgeons boast about an ultrasonic method called the "Vaser" or a laser method called "SmartLipo". I used these techniques in the past, but did not see a benefit for the patients. Using these techniques, the procedures last longer, and the patients are exposed to the possibility of being burned.
The third technique I use is the "tickle lipo" method, which is a newer form of liposuction. In this method, the tool used gently vibrates and makes the fat removal process quicker than traditional methods. For some patients, the procedure can be done with twilight anesthesia, with less discomfort.
While these three methods permanently remove excessive fatty tissues or cause them to shrink, it does not inhibit the surrounding tissues from becoming swollen or enlarged. That's why it's important to continue taking care of your body even after I treat an area with liposuction.
With the loss of excessive fat, you're bound to feel more motivated than ever to have an active lifestyle and be more physically fit! I usually recommend my patients to have an active lifestyle before the treatment, so that it's easier for them to maintain results following cosmetic surgery. It also improves the recovery process. If you're working with someone to develop an exercise routine and diet plan that you can stick to, then we usually don't have to worry about fatty tissues building back up.
Still not sure if liposuction is for you? That's ok! I'm happy to meet with you in my El Paso office to discuss liposuction and other cosmetic surgery options as they relate to your specific body contour goals. Call Southwest Plastic Surgery to book a visit! 
You can schedule an appointment with Dr. Frank Agullo by calling (915) 590-7900 or filling out an online contact form.