January 25, 2016 | Abdominoplasty, Breast Augmentation, Breast Lift, Breast Reduction, Mommy Makeover
If you're done having children and have made it a mission to get your body back to the way it was pre-kids, you're not alone. Each year thousands of women enjoy the thrill of becoming a mother, but then face the daunting task of getting their bodies back into shape.

While some women bounce right back, others endure more physical tolls on their body. For instance, a very stretched tummy due to abdominal growth during pregnancy can leave saggy, folded tissues years after childbirth. For others, the breastfeeding process has caused stretching or droopiness of the breast, resulting in loss of fullness.
A rigid diet and exercise program may do the trick, but if saggy tissues are to blame, then a Mommy Makeover could be exactly what you were looking for.
What's Involved in a Mommy Makeover?
Each time I meet with a woman to discuss a Mommy Makeover; I want to know what her goals are. Is it just the breasts? The tummy? Both? Something else? Buttock augmentation? A Mommy Makeover isn't just one treatment in particular. Rather, it is a series of aesthetic procedures that are all performed at once – giving you great results that return your pre-baby body back to a reality!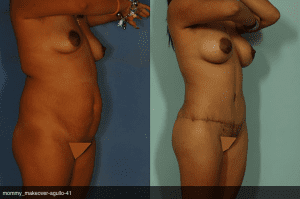 Depending on the actual physical needs of each woman, I will typically recommend combining treatments such as:
Breast Augmentation or Lift – Stretched or saggy breasts are a common side effect of pregnancy and nursing. Breasts may be much smaller and droopier than they were before you became pregnant. You would be amazed at what a simple augmentation or lift can do to restore natural breast fullness and contour. It's a key to just about every Mommy Makeover that I perform.
Breast Reduction – Unlike women who experience shrinkage of their breasts during nursing, some women feel like their breasts are too large after having a baby. Reducing some of the fullness and lifting the breasts can create a fuller, more youthful appearance.
Abdominoplasty – Excessive abdominal fat or stretched tissue can make your stomach appear saggy and increase your waistline. In most cases, I recommend a tummy tuck to reduce the skin in the area, remove fatty tissues, and tighten the abdominal wall. This leaves your stomach much flatter, and eliminates the "baby belly" that even daily trips to the gym can't get rid of.
What to Expect
In most cases, you can expect to spend a bit more time recovering from a Mommy Makeover than you would just a breast augmentation or single procedure. Why? Because we complete everything at one time. Women who are physically active and have a strict workout routine do typically tend to recover quicker, as their bodies handle the stress much easier. I usually recommend taking at least two weeks off of work. If you still have small children, you will definitely need someone to help you care for them at home, as you will not be able to pick them up during recovery.
You'll be thrilled with the results of your procedure! The makeover process allows us to refine your waistline, restore fullness to your breasts, and make up for what exercise can't.
Consultations
During your consultation at my office, we'll discuss the varying characteristics of your body that have changed since childbirth, and what you want to change. Then I will present a series of realistic plans that we can implement to give you both your body and your confidence back. If you've been embarrassed for far too long about the beating that motherhood has taken on your body, then you owe it to yourself to schedule a consultation.
You can make an appointment at the office of Dr. Frank Agullo by calling (915) 590-7900 or filling out an online contact form.