March 04, 2016 | Back Lift, Body Contouring, Body Lift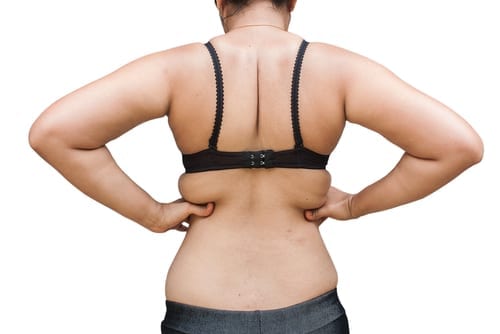 So many women have shared this experience: you're feeling great, but while you're getting dressed, you catch your reflection in the mirror from behind. Then your smile drops. That form fitting blouse, dress, or top seems to find all the frustrating spots that your diet and exercise regime don't quite fix. And then there are those dreaded indentations in your back from your bra, even when you've been fitted professionally for it. A bra line back lift may help! With the help of Dr. Frank Agullo, board-certified plastic surgeon and MD of Agullo Plastic Surgery, you could be able to erase those lines and "rolls" for the better.
What are the Components of a Bra Line Back Life?
A back lift targets the laxness in the soft tissue of the upper back area, camouflaging any scarring in the space tucked behind the bra line. We prefer to keep you comfortable with general anesthesia, as is very safe and ideal for this type of procedure. Then, surgical dressings similar to paper tape retain closure of the site, until healing is complete.
Because this surgery affects your agility during recovery, Dr. Agullo recommends avoiding raising of your arms, intense activity such as lifting heavy objects, or heavy use of the abdominal muscles. Your movement should be restricted for two weeks, with gentle attention to all physical actions until you're fully recovered.
Causes of Back Fat
Usually, back fat is a problem that occurs during the natural course of our life. And then aging brings less elasticity to the skin. But serious weight loss also plays a large factor – like the rest of your torso where fatty deposits or rolls are noted, weight gain can affect your upper back.
Who Can Get the Best Results?
A back lift is ideal for individuals who have consistently instituted a healthy diet and exercise routine for their lifestyle, but continue to have difficulties with excessive soft tissue and fat in the upper back territory. Typically, this laxity is found more in our patients who've experienced tremendous changes in their weight.
Will You Lose Inches or Just Lift What You Have?
Your results will lead to a reduction in the looseness and amount of soft tissues in your upper back. The difference seen will be an elimination of upper back rolls and a lower measurement around your torso, because of the lessened amount of excessive tissue. This powerful aesthetic procedure can lead to significant results in a safe manner.
What Does the Scarring Look Like?
Any surgery leaves scarring behind. With a back lift, streamlined scars are very common. What this means is that the sites of the incisions made are closed in layers, which reduces the tightness of the surgical site. Because of this, your scars typically won't widen or stretch. The eventual scar lays straight, in the area that is covered by your bra. That way it's hidden away even if you're in your favorite bathing suit.
Can This Be Done to the Whole Back?
In most cases, a back lift procedure is only recommended for the upper section of the back. However, there are other procedures similar to this one that address the lower back rolls and other excessive tissues. But just as the upper back procedure doesn't affect the lower back, so does the lower back procedure not affect the upper back soft tissue.
Should You Get One Done?
If you're unhappy with the appearance of your upper back when you look in the mirror as you're getting dressed, then a bra line back lift might be right for you. If you can't achieve the change you want through altering your diet, exercising consistently, or losing weight – and you don't want to hide in your baggier clothes to avoid showing rolls – then this might be exactly what you're looking for! Call Southwest Plastic Surgery in El Paso today to schedule a private consultation with Dr. Agullo to find out more.
You can make an appointment with Dr. Agullo by calling (915) 590-7900 or by filling out our online contact form.