February 01, 2016 | Blepharoplasty, Body Lift, Breast Augmentation, Breast Reduction, Liposuction, Rhinoplasty, Tummy Tuck, Vaginal Rejuvenation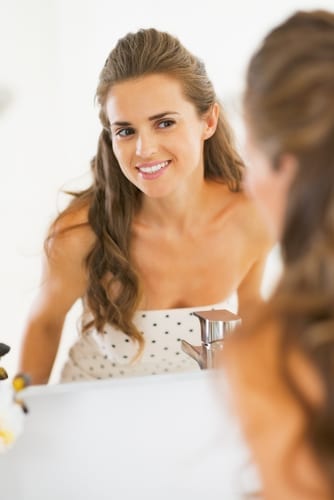 A familiar misconception is the idea that cosmetic surgery isn't beneficial past the surface of the skin. But that's not true! Investing in aesthetic treatments by a board-certified plastic surgeon can help you boost your confidence, improve your appearance, and change your lifestyle.
Not only that, but cosmetic treatments can also be beneficial to your health and well-being. Here are just a few examples:
Breast Reduction
It's not uncommon for women with larger breasts to experience pain or discomfort in their back, shoulders, or neck. Reducing the size of the breasts to one that is lighter can improve posture, reduce spinal problems, and even make it easier to workout at the gym. Some women also experience frequent skin irritation or infection under their breast tissue, so a reduction makes it much easier to reduce the likelihood of these conditions.
Breast Augmentation
For women who experienced tuberous growths, or asymmetry to the point that it interferes with their posture, breast augmentation can create a healthy fit for your profile and reduce your risk of back pain.
Rhinoplasty
Getting a "nose job" could actually help you breathe easier, due to correcting a deviated septum or other anatomical irregularities that reduce oxygen flow. Rhinoplasties offer straightforward results to my patients with obstructed nasal passages.
Eyelid Surgery (Blepharoplasty)
If droopy eyelids (ptosis) interfere with your line of vision, a simple lift can improve your eyesight.
Suddenly you'll see better again, without having to wear glasses!
Abdominoplasty
A tummy tuck reduces the excess fat and skin along the waistline – decreasing your risk of diabetes, reduce certain types of incontinence, and relieve back pain as the muscular positions are corrected. Enjoy a flatter, more toned stomach that diet and exercise alone haven't achieved.
Body Lift
After significant weight loss, reducing excess skin in the arms, lower body, thighs, or breasts can improve posture, reduce your risk of diabetes, and even reduce incontinence caused by stress. Say goodbye to the "waving" skin when you walk or raise your arm, and hello to tighter fitting clothes.
Liposuction
Liposuction can be used to reduce the amount a person sweats under their armpits – something that can interfere with everyday social relationships. The procedure can also bone completed using a laser. Liposuction is often used for men who need breast reduction due to excessive fatty tissues in their chest.
Vaginal Rejuvenation
After childbirth, many women experience scar tissues caused by tearing, looseness of the vaginal walls, or chafing because of naturally large labia. Plastic surgery can reshape and recontour the vaginal tissues for greater comfort in your favorite clothes (or with the person you love.) Through vaginal rejuvenation you can achieve your desired look.
Of course, the psychological benefits of plastic surgery are significant. Being able to overcome the embarrassment of specific anatomical irregularities can give my patients a new-found freedom that literally changes their life for the better. If you've been thinking about having some type of cosmetic procedure performed, and you just can't justify it for looks alone – it's time to look even deeper, and see how treatments can improve things other than just your appearance.
To learn more about your options in plastic surgery, you can make an appointment at the office of Dr. Agullo by calling (915) 590-7900 or filling out our online contact form.