February 04, 2016 | Gynecomastia, Liposuction, Male Cosmetic Surgery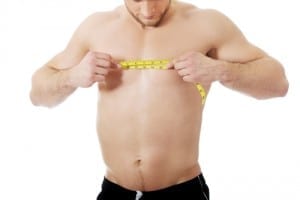 Gynecomastia is a condition that causes an unnatural enlargement of breast tissues in men. Obviously, this condition can result in embarrassment, emotional trauma, and even psychological harm to my patients – regardless of their age. Some forms of the condition can be seen in infants, adolescents, as well as the elderly.
Unfortunately, physiological male breast growth that is not caused by being overweight is usually seen in the early teen years, with about 50% of cases developing by age 14. The 1990s saw a 500% increase in specialist visits for this condition alone.
The Struggle is Real
The embarrassing nature of the condition can make it even more difficult for patients to reach out to their parents or doctor for help. If you've suffered from the condition for all of your adult life, you know how wearisome it can be.
Men suffering from abnormal breast growth may experience embarrassment during the simplest of activities – such as taking their shirt off for a dip at the pool, or wearing certain types of clothing in public. When you should be busy enjoying time spent with your friends and family, you may see your social life impaired or your personal network dwindling.
Treating Male Breast Enlargement
Liposuction is a straightforward and effective management tool for male breast growth. It is usually preferred in the mild to moderate phases of gynecomastia. Earlier intervention is key, as more progressive forms of breast growth may require complete resection and surgery of the breast.
Not only does liposuction reduce the size of the breast, but it also makes it possible for me to enhance the contour of the chest along the front and lateral surfaces. Choosing liposuction earlier can reduce the extensiveness of your procedure – giving you benefits much more quickly and reducing your recovery time.
With Liposuction, we are able to quickly and easily eliminate excessive fatty deposits throughout the body – including the breast tissues. This makes it an excellent option for my male patients suffering with gynecomastia. Plus, the results of the treatment are permanent.
If the breast gland is also enlarged, this can be removed through a small ¾ inch incision right at the margin of the areola.
Confidential Consultations
If you or your son is experiencing male breast growth, you deserve a board-certified plastic surgeon who can relate to the situation in a professional manner without causing additional embarrassment. My El Paso office provides confidential and friendly services to patients of all backgrounds and needs. Please call today to schedule an evaluation!
To schedule an appointment with Dr. Agullo, you may call (915) 590-7900 or fill out our online contact form.