January 21, 2016 | Breast Augmentation, Breast Reduction
Does size really matter? While society has often told us "size isn't the issue" as far as men are concerned, women's breasts seem to be an entirely different mindset. If you're too big, or too small, finding the perfect cup size may seem like an obsession in order to feel confident in your everyday clothing or trip to the beach.
Fortunately, natural breast sizes and shapes are making a comeback for women. A survey published in the Plastic and Reconstructive Surgery journal showed that of over 1,000 people surveyed, most men and women preferred cup sizes that were in the larger-B to smaller-C size range. Not the larger, fuller, more prosthetic versions we see most of Hollywood sporting on everyday media.
This offers a bit of wiggle room for women who have been considering breast augmentation or implants.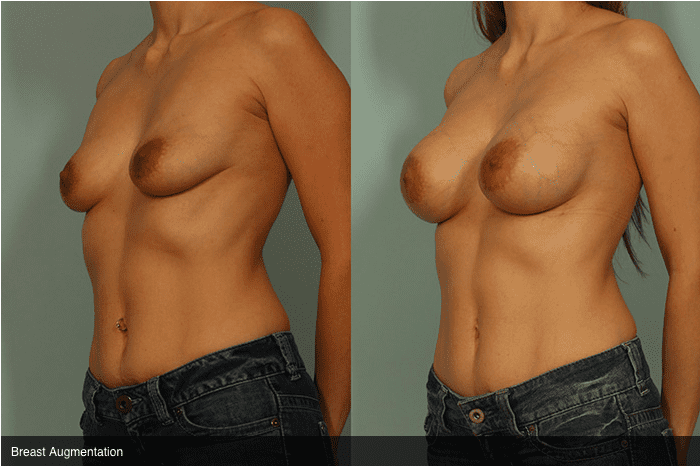 A Natural Contour
Another factor to take into account is the shape of the breast itself. In the previously mentioned study, participants were also asked to identify the most aesthetically pleasing breast contour. It wasn't the round, saline-filled shape that used to be so popular. Instead, it was a 45:55 ratio. What does that mean? It means that 45% of the breast tissue fell above the nipple line, while 55% fell below it. Most people are more drawn to the contour of a natural breast, as opposed to a rounder one with more fullness above the nipple line.
Creating Beautiful Profiles for Every Patient
Each time I conduct a breast augmentation consultation, I feel that it is important to discuss the various types of implants available and how they will help my patients achieve their aesthetic goals. While certain types of implants have various advantages, others allow me to achieve a closer resemblance to natural tissue.
Automatically assuming that a rounder, fuller breast is best, is not always the right choice. The trend seems to be on a spiraling downward cycle that leaves many women torn as to which type of implant to choose. In my professional opinion, most women are extremely comfortable with naturally shaped breasts, as long as the cup size borders between a full B or C.
The same can be said for breast reduction patients and women who are undergoing reconstructive surgery after having cancer treatment. Creating the right fullness and shape is just as important as our emphasis on cup size. That's right – being bigger doesn't always make it better! Size doesn't matter, size and contour are what matters!
Finding Your Right Shape
At Southwest Plastic Surgery, I'm able to meet privately with each patient to discuss her concerns and expectations regarding their breast augmentation surgery. Together, we'll look through before and after photos and discuss how various types or sizes of implant treatments can help you achieve your personal goals when it comes to breast fullness.
I encourage women to bring photos with them to their consultation, so that we can compare different types of options and select the most appropriate. It also gives me an idea for your personal preferences as far as treatment expectations.
Some women still prefer the rounder breast even though they are not quite so naturally shaped. Ultimately, your personal preferences will determine the treatment plan that we choose to take. With the right vision, I can help you create a beautiful contour that will help you feel more confident about the way your body looks and feels.
To learn more about breast augmentation and your options, contact the office of Dr. Frank Agullo by calling (915) 590-7900 or filling out an online contact form.