September 26, 2014 | Blapharoplasty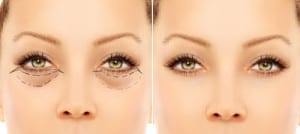 Upper lid blepharoplasty is not something you would think about when you schedule a consultation with a plastic surgeon. Instead, you might notice less elasticity in your skin, particularly in your face and either over or under your eye areas. Skin starts to sag when we get older, but having droopy eyelids might make you feel just as tired and exhausted as you look.
If this has happened to you, then you might be a good candidate for blepharoplasty, which is a procedure that can improve the appearance of the skin around the eyelids. Excess folds that hang down can make your eyes feel heavier than normal, which is because the muscles just underneath the skin also become weaker.
If you are wondering whether blepharoplasty might be a good solution for you, you can talk to one of the area's best plastic surgeons, Dr. Frank Agullo, about an eyelid procedure and whether or not you are a good candidate. First, here are 5 things you should know about eyelid surgery:
•    Saggy eyelids are often hereditary. You might be saying, "Thanks Mom or Dad for those droopy lids, but to know whether or not you may experience aging around your eyes, just take a look at your parents. If they have bags under or over their eyelids, chances are high that you might inherit this quality.
•    Blepharoplasty might be more desirable for some than a complete facelift. When you first think about improving your appearance, one of the first features you will notice is the area around your eyes. Some people do opt for blepharoplasty, rather than going through a complete facelift. The doctor will weigh these pros and cons with you.
•    Drooping eyelids might be caused by something else. Before you rush to get blepharoplasty, thinking that it will return your eyes to normal again, be aware that it might not be your eyelids at all that are causing the problem. For some people, the downward displacement of eyebrows can be the root of the sagging upper lids, rather than the lids themselves. This can be corrected by elevating the brow line, which the doctor will recommend instead.
•    Blepharoplasty is affordable. Most upper eyelid procedures can be done within an accredited, outpatient plastic surgery center, thereby reducing the need or cost for hospitalization. Most people can return to normal activities within a week to ten days of eyelid surgery, making it also one of the simpler types of cosmetic surgery.
•    Eyelid surgery is one of the third most popular cosmetic procedures. From statistics last evaluated in 2012, blepharoplasty was the third most popular facial rejuvenation procedure in the U.S. The numbers keep growing, as more people seek to improve their appearance.
Indeed, blepharoplasty is a relatively simple, yet tremendously noticeable way to restore a youthful look to your face. Most people notice gradual changes in their forties, fifties and into their sixties as the elasticity continues its decline. There is less risk involved than with many other types of facelifts or plastic surgery, thereby making it relatively easy and hassle free for both men and women.
Dr. Agullo of Southwest Plastic Surgery can discuss whether eyelid surgery is appropriate for you. Call (915) 590-7900 for a one-on-one, discreet consultation.