November 01, 2022 | Brow Lift
3 Minute Read: 
Noticeable scarring, lengthy recovery times, and unnatural-looking results are some of the most common worries of prospective brow lift patients. And while traditional brow lift surgery can significantly improve the appearance of forehead lines and wrinkles and sagging brows, many techniques require an incision across the length of the forehead at the hairline.
Fortunately, an endoscopic brow lift offers relief from some of these concerns.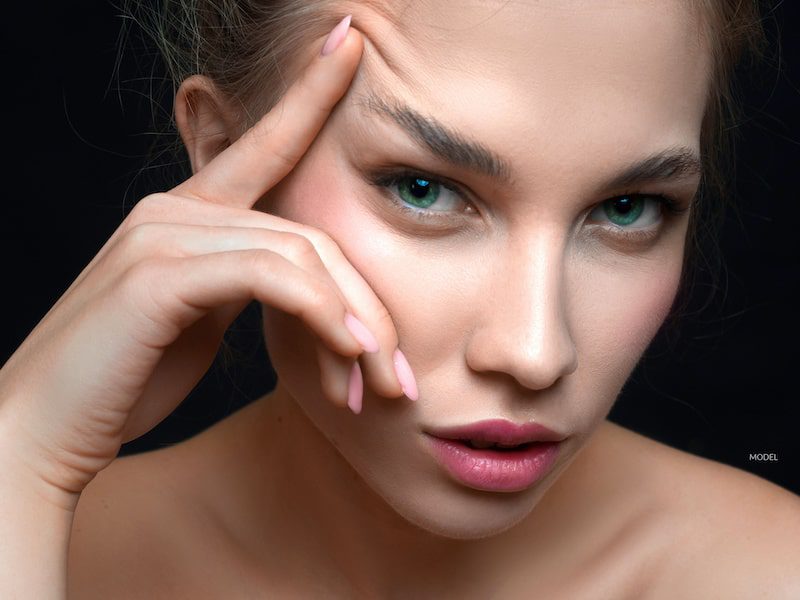 What Is An Endoscope?
An endoscope is a small camera with a light on the end that allows the surgeon to see the underlying structures of the forehead and eyebrow area without the need for a long incision. 
During an endoscopic brow lift, a series of small incisions are made hidden within the hairline. The endoscope, which is attached to a monitor, is inserted through one incision while lax forehead tissues are tightened through another.
What Are the Benefits of an Endoscopic Brow Lift?
Less Visible Scarring
For a traditional coronal brow lift, one long incision runs across the top of the forehead at the hairline. It is through this incision that all improvements are made. 
For an endoscopic brow lift, a few small incisions are made instead of the single longer incision. Because these incisions are so much shorter, they are easier to hide within the hairline.
Quicker Recovery Period
An endoscopic brow lift is a less invasive approach to facial rejuvenation. Because the incisions are smaller, there is also less chance of an extended recovery period. Most endoscopic brow lift patients can expect mild bruising and swelling around the incision sites that will subside within a few weeks. 
The endoscope also allows for a safe procedure with fewer risks. Because the incisions are small, there is a lower risk of infection and nerve injury and less post-operative pain. 
Natural-Looking Results
The endoscope allows your surgical team the ability to look deeper into the facial structure without causing additional damage. This allows for more precise and effective surgical moves and ensures natural-looking improvement to moderate imperfections caused by loose forehead and brow muscles.
What Other Options Are Available for Brow Lift Surgery
If an endoscopic brow lift cannot address your needs, you may want to consider one of Dr. Agullo's other techniques.
Coronal brow lift: elevates a drooping eyebrow

Temporal brow lift: contours the eyebrows

Periorbital brow lift: raises the eyebrows

Direct brow lift: adjusts brow sagging by shifting the positions of the eyelids back up
Is There a Non-surgical Alternative to a Brow Lift?
While there is no non-surgical treatment that can completely rival the results of a brow lift (whether it is an endoscopic brow lift, coronal brow lift, temporal brow lift, direct brow lift, or other option), success has been seen with several non-surgical treatments. 
Patients choose BOTOX® Cosmetic to reduce the appearance of expression-causing lines and wrinkles across the forehead, between the eyebrows, and around the eyes. This injectable treatment temporarily prevents muscle contraction, thereby reducing the appearance of wrinkles.
For patients looking to tighten skin on the upper part of the face and addressing sagging brows, success has been found with AccuTite™. This minimally invasive radiofrequency treatment tightens and tones the skin.
Interested in a Brow Lift in El Paso, Texas?
If you want to learn more about your brow lift options in El Paso, Texas, contact Agullo Plastic Surgery by calling (915) 590-7900 or filling out our online contact form. Schedule a consultation today to see how you can benefit!