January 03, 2022 | Buttock Augmentation
4 Minute Read: 
Butt augmentation procedures have become increasingly popular as more women seek to improve the shape and contour of their buttocks. If you have sagging, flat buttocks that make you self-conscious or uncomfortable, you do not have to feel stuck. 
Today, we have various surgical and non-surgical options for buttock enhancement. A round, firm, and perky rear can create a better balance of body shape, helping you to feel more confident in your body.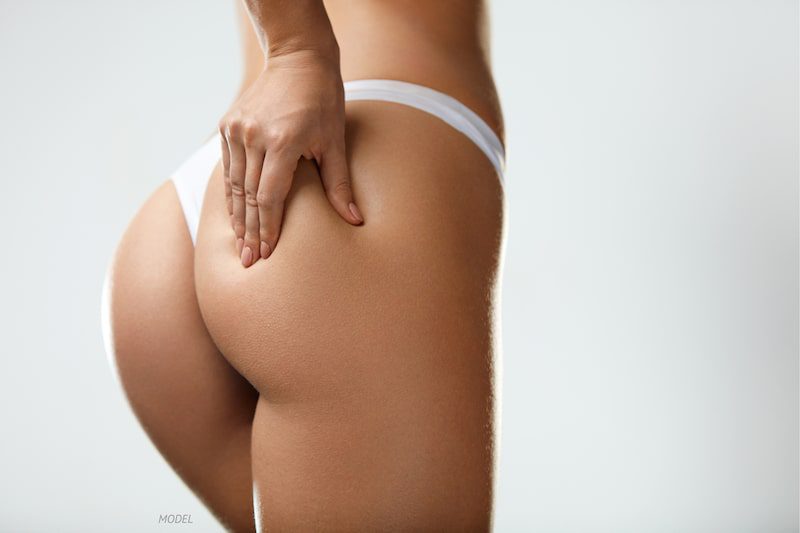 What Are My Options for Buttock Enhancement?
What Is the Brazilian Butt Lift (BBL)?
A BBL involves harvesting fat from another body area, such as the waist, hips, back, or thighs, and injecting the healthy fat cells into your backside to create the desired amount of fullness. 
Patients considering this procedure must have an adequate amount of excess fat to transfer; otherwise, a more viable alternative is recommended. The procedure produces more naturally-appearing results since a patient uses their own fat.
Compared to silicone implants, the BBL has a significantly lower rejection rate since no foreign substance is introduced into the body. Further, patients get to enjoy a slimmer overall contour that compliments their enhanced backside as fat is trimmed from the unwanted areas.
What Is the Supercharged BBL?
The supercharged BBL is an innovative technique that combines both fat transfer and gluteal implants. It is an ideal procedure for anyone that seeks to have a more precise butt augmentation with projection and stable results in the long term.
The procedure offers a more distinctive, curvier derriere than either method could accomplish alone.
What Are Butt Implants?
Butt implants are the best choice for achieving better gluteal projection for those with little body fat for transfer. The procedure uses synthetic devices made of solid silicone to dramatically enhance the volume and shape of the butt. 
This is a more invasive procedure that involves larger incisions, often requiring more downtime.
What Is the Sculptra® Butt Lift?
This is the least invasive butt enhancement procedure, suitable for those experiencing mild butt volume loss or asymmetry. The procedure uses an injectable filler (Sculptra® Aesthetic) to add fullness to the butt.
How to Determine the Right Procedure for You?
The best way to determine which butt enhancement options is best suited for you is to meet personally with Dr. Agullo in a private consultation. During your appointment, Dr. Agullo will assess your physical condition and medical history, review your goals and desired results, and recommend a personalized treatment plan by considering factors such as:
Amount of available fat

Degree of skin elasticity

Bone and muscle structure
Of course, all patients must be in good physical health without major medical problems, have realistic expectations of the results, and have a positive outlook.
Interested in Butt Augmentation?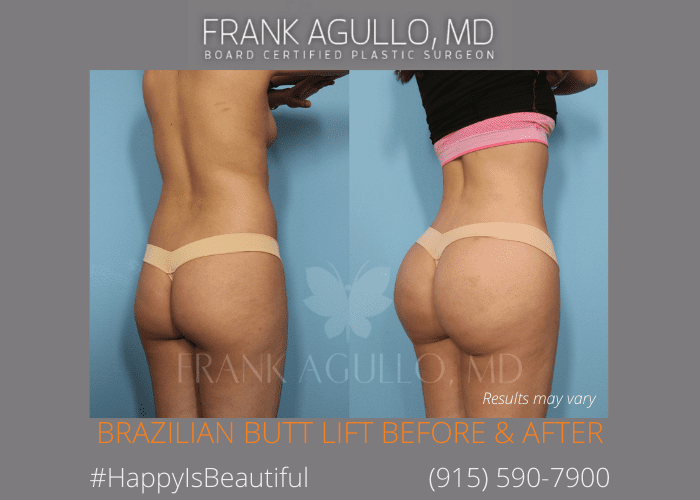 Feel free to contact us at 915-590-7900 or fill out our online contact form to schedule your consultation to determine your candidacy for any of our butt augmentation options. You can also visit our butt augmentation before and after gallery to see how Dr. Agullo has helped his previous patients.