August 12, 2015 | Liposuction, Neck Lift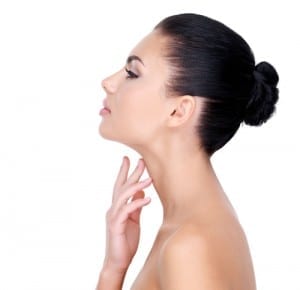 As many people get older, the tissues in their face and neck begin to give in to the forces of gravity. When combined with the accumulation of fat deposits and wrinkles, the neck eventually begins to develop a saggy appearance. This also causes the jawline to be less apparent and blend in with the rest of the neck. Excess sagging skin leads many to develop the dreaded double chin. By removing excess fat deposits and diminishing the signs of aging in the neck, a youthful look is restored.
A neck lift improves the appearance of the neck by:
Removing fat deposits and excess skin

Recontouring the jawline

Eliminating the jowls
How is a youthful neck restored?
Dr. Agullo performs neck lift surgery with the patient under general anesthesia, local anesthesia, or sedation, depending on your individual circumstances and preferences. During your consultation, Dr. Agullo will discuss your choice of anesthesia as well as the specific neck lift technique that will be best for your individual needs and desires.
Dr. Agullo performs traditional neck lift surgery by combining liposuction with specialized incision methods. To remove the fatty tissue from the chin and neck area, Dr. Agullo makes a two small incisions behind the ears and sometimes an additional incision below the chin. He then inserts a cannula (thin hollow tube) underneath the skin through the incisions and uses a vacuum device to permanently suction out excess fat deposits. After the desired amount of fat is removed, Dr. Agullo excises excess skin and tissue and tightens the remaining skin to reveal a more youthful neck.
In some cases, Dr. Agullo performs skin-only or liposuction-only techniques to rejuvenate the neck appearance. For more complete rejuvenation, some patients also choose to undergo additional facial plastic surgery procedures during neck lift surgery, such as a facelift, brow lift, or eyelid lift.
To find out which neck or facial revitalizing treatment is right for you, we encourage you to contact Southwest Plastic Surgery to schedule your consultation with Dr. Frank Agullo. Dr. Agullo is ABPS Board Certified in Plastic Surgery and has years of experience performing facial plastic surgery. Call our El Paso office at (915) 590-7900 or our Las Cruces office at (575) 520-5041 today to schedule your consultation. You may also fill out our online contact form for more information. Dr. Agullo looks forward to helping you achieve an appearance about which you can feel confident.