February 19, 2015 | Breast Augmentation, Gummy Bear Implant
Using Gummy Bear Implants to Give Breasts a Natural Appearance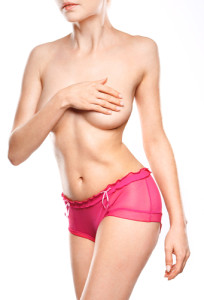 As if there weren't enough strange terms for the plastic surgery industry, the term "gummy bear" implant has been introduced into the breast implant business. As enticing as they may sound, these are not breasts made of candy, but rather a term used for the shape of the new implants. They have an inner fill that withholds its shape, and feels firm to the touch, much like its namesake "Gummy Bear" the candy.
For breast augmentation, the gummy bear implants provide a natural feel and amazing shape, with fewer chances of rupture. Their textured surface areas are designed to decrease visible scars around the implants, which also makes them safer to use. The scarring is the reason for some women getting hard, deformed, or sore breasts due to breast capsule contracture. Some of the gummy bear implants are so much better and less likely for this to occur, that the manufacturers also offer a two-year warranty.
Imagine that! A warranty on breast implants.
Gummy bear implants offer a highly cohesive, solid makeup that, unlike liquidy silicone implants are designed to be more aesthetically pleasing. Their tear drop appearance is anatomically proportioned to look like a woman's breast, offering a gentle slope that starts just above the upper part of the breast and gradually projects downward to the lower part, giving the breast a very "realistic" look. Most women who choose gummy bear implants like the way they look in clothes. Instead of looking fake, they look like real breasts.
Another benefit of the gummy bear implants is that they are easier to replace, when the time comes for them to be updated. No breast implants last forever, but the gummy bear implants are less likely to develop scar tissue. There are several different manufacturers of the gummy bear implant, including Sientra, Mentor MemoryShape or Allergan. Long term results for the gummy bear breast augmentations have been very favorable!
Surprisingly enough the gummy bear implants are not available at some plastic surgeons across the U.S. However, Agullo Plastic Surgery of El Paso, TX and Las Cruces, NM does offer gummy plant breast augmentations to its patients. We have had great success in installing these fine breast implants, so if you want a great choice in breast implants, come talk to Dr. Frank Agullo about getting gummy bears!