February 18, 2016 | Beard Transplants, Facelift, Liposuction
The playing field in cosmetic surgery patients is changing. As more men are realizing that cosmetic procedures are minimally to non-invasive, they are increasingly coming in for plastic surgery and cosmetic treatments. It may just be that in the future, just as many men are getting treatment as women. Last year, over 1 million men in the US saw a plastic surgeon for cosmetic treatment.
The fact that technology has made treatments more comfortable and affordable is a huge factor. But men are also realizing that it isn't narcissistic or painful for them to 'get work done.' They're just now figuring out what women have already known!
So, what are the top procedures I'm seeing men for at my El Paso cosmetic surgery center?
Beard Transplants
If you weren't naturally well endowed with a full facial beard, that's ok. It's now possible to do single follicular hair transplants from the back of the head onto the face – leaving you with a fully functional beard! For men with baby faces or patchy facial hair, beard transplants are the perfect touch for getting that  "lumberjack" or "metrosexual" look you've been working so hard toward. Plus, nobody has to know that you even had it done!
Laser Hair Removal
We've seen about a 40% increase in laser hair removal treatments in men. The results are permanent, and great for men who have excessive hair in less-than desirable areas, such as the back or even their chest.
Non-Invasive Facelifts
Light, laser, and radio therapy can tighten the skin throughout the face, neck, stomach and legs for a smoother, more youthful skin tone. It's perfect for erasing loose skin around the eyes and mouth – areas that show our age. Plus, it triggers collagen production which makes the skin look fuller and smoother.
Fat Reduction
Did you know that it was possible for us to use non-surgical techniques to reduce the appearance of body fat? Liposuction is also useful for men with excessive fatty tissue buildup (even in the breasts) for a more toned body contour that diet and exercise can't always achieve on their own.
Neck Treatments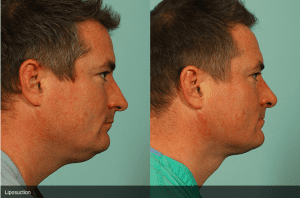 Whether it's using lasers to firm and tighten the neck tissues or a surgical neck lift, tightening the skin in this area can add youth to your appearance. We also reduce fat through the area under the chin, which can make you look like you've lost weight. Sometimes I even add injectables to remove the fatty tissues underneath the skin.
Are you new to the dating crowd again? Just looking for a way to feel your best? Now you know the truth – I see men on a regular basis and the treatments available are usually far simpler than they realized!
If you're considering doing something for yourself, whether it's a beard transplant, liposuction, or laser therapy – I invite you to call my El Paso office to schedule a consultation. We'll have a chance to sit and discuss what type of goals and expectations you have, and then go over your options available.
To make an appointment, you can contact the office of Dr. Frank Agullo by calling (915) 590-7900 or by filling out our online contact form.