February 21, 2017 | Brazilian Butt Lift, Buttock Augmentation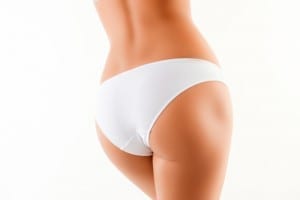 If recent trends are any indication, the days of asking, "Does this make my butt look big?" are long gone. Now, having a full and round derrière is all the rage. One of the most popular new methods of butt augmentation is the Brazilian Butt Lift, in which fat is transferred from one area of the body to the buttocks. Here is why so many women are getting Brazilian Butt Lift surgery to give them the firm and proportioned butt they want.
Enhance Your Body Shape
Women who get butt augmentation with fat transfer often want a curvier figure. A Brazilian Butt Lift can help create the hourglass figure you've always wanted. It can also balance out your body shape by making your butt, hips, and chest more proportional to each other. An advantage that the Brazilian Butt Lift has over other butt augmentation techniques is that it uses fat transfer, which removes unwanted fat from other areas of the body. With the Brazilian Butt Lift, you can enhance your butt and minimize your abdomen, thighs, and other areas at the same time. This technique improves your overall body shape rather than just your buttocks.
Look Better in Clothes
Clothing is only flattering when it is worn by someone with the appropriate body shape. If your buttocks can't fill out your jeans, your bikini bottom, or your dress/skirt, you won't look your best. This is another reason women undergo Brazilian Butt Lift surgery. This procedure allows you to boost your backside so that your butt looks great in any piece of clothing.
Get Natural Results
The Brazilian Butt Lift does not use synthetic implants to enhance the buttocks. Women who are especially concerned about what they put into their bodies choose the Brazilian Butt Lift because it offers natural butt augmentation. The injected fat comes directly from your own body, meaning there is little risk of an adverse reaction. Additionally, the results tend to look more natural with the Brazilian Butt Lift. The buttocks are already filled with fat, and adding just a bit more fat can be the perfect touch. After this procedure, you will have a shapelier and fuller butt, but your butt will still look like it is naturally yours.
Boost Confidence
Yet another reason women undergo Brazilian Butt Lift surgery is to boost self-confidence. This procedure helps you look good, which can, in turn, foster a more positive body image. Knowing that you look good goes a long way in helping you feel good and confident. This confidence carries over into all areas of your life, helping you to live your life to the fullest.
These are only a few of the many reasons women are getting Brazilian Butt Lift surgery. To learn more about how you could benefit from this procedure, schedule your personal consultation with Dr. Frank Agullo. Please call (915) 590-7900 or contact us online to get in touch with us today.