March 05, 2015 | Brazilian Butt Lift, Butt Implant, Buttock Augmentation, Fat Injections
Fuller, rounder, perkier…
People who have a flat, saggy or unappealing derriere may wish they had more projection in the buttocks region. This can be done with El Paso Buttocks Augmentation! The buttocks augmentation is designed for a patient who wants to reshape and redistribute the look of their buttocks to appear fuller, rounder and perkier!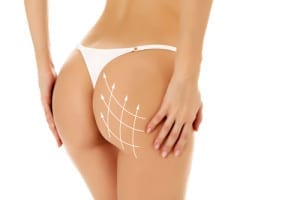 Do you…
Wish your butt was rounder, fuller and shapelier?
Long for an hourglass figure or more voluptuous curves?
Look in the mirror and think your butt looks too flat, small or just disproportionate compared to the rest of your figure?
Then maybe a good "Southwestern Texan" buttock augmentation is right for you!
Buttocks augmentation procedures work in three different ways to achieve similar endpoints. It can be achieved through fat injections in combination with liposuction, with gluteal implants, or with your own tissue if you need a lift at the same time.
The "Brazilian Butt Lift", is achieved by removing fat from a patient through liposuction and then injecting or "repositioning" the fat into the buttocks for reshaping. By taking a person's own fat, this relatively simple cosmetic enhancement can have dramatically pleasing results by transforming a flat butt into a wonderfully shaped, round butt that sits higher and looks more appealing in bathing suits or form-fitting apparel.
Dr. Agullo also performs buttock augmentation with silicone implants. The use of implants can generate more dramatic results and is a good option in thin patients that have little fat for injections.
Buttock Augmentation Techniques
Buttock augmentation has a few different terms associated with the procedure, aside from the "Brazilian Butt Lift". It can also be termed butt implant, gluteal implant, buttock enlargement or just a 'butt lift'. These all refer to procedures used to improve the buttock contour, although the techniques may differ.
During buttocks augmentation surgery, you will be under general anesthesia or IV sedation:
Buttock Augmentation with Fat injections. This is one of the most common methods of buttock augmentation also termed "Brazilian Buttock Lift" or BBL. It works best for patients who have excess fat stored in other areas of the body, such as the thighs, abdominal (midsection), hips and waistline. Dr. Agullo uses a process called fat grafting or fat transplantation, in which he will gently remove the fatty accumulation from these areas with liposuction and then reposition them strategically within your butt to achieve a naturally fuller, rounder shape. Liposuction is always performed above the buttocks, which improves the overall contour.
Buttock Augmentation with Implants. Patients who have only minimal body fat and who want the buttocks augmentation enhancement will most likely need implants to achieve their goal of a round or more projected butt, which involves the plastic surgeon placing a strategic incision just below the tailbone. The incision is not visible when standing, as it hides in the fold. Dr. Agullo's preferred implant placement is intramuscular, which avoids many of the complications previously associated with buttock implants. Buttock implants are made of solid silicone gel, so they do not pose a risk of rupture or leakage.
Buttock lift with augmentation. If you have buttock ptosis, then a lift may be necessary to achieve the best gluteal contour possible. In mild cases of ptosis adding volume with fat injections or an implant may be enough. In more pronounced cases a buttock lift would be necessary. A buttock lift is achieved by removing skin just above the buttocks, resulting in a thong type of incision. The scar is easily hidden with underwear, bathing suit, or even thong type undergarments. Augmentation of the buttocks is achieved at the same time with a local flap from your own fatty tissue. In certain cases augmentation can also be achieved with fat injections or implants.
No matter what you call it, buttocks augmentation can be done as part of other cosmetic procedures like a tummy tuck and breast lift or with an entire body lift experience. Your buttocks augmentation will be done in Dr. Agullo's state-of-the art facility most likely as part of an outpatient procedure, which dependent upon whether the butt lift is combined with other cosmetic applications can take about 2 hours.
Getting ready for butt lift surgery
Get ready to have your buttocks lifted, contoured and protruding just the right way with Southwestern Texas buttock augmentation surgery! Here are some readiness strategies to apply before your buttock enlargement procedure:
Quit smoking any tobacco products for at least two weeks before surgery and two weeks afterwards to decrease potential risks from blood clots or slower.
Line up relative or friend to take you to and from the procedure. You won't be able to drive after having anesthesia for at least a few days afterward.
Plan to get help with childcare, errands, etc. since you won't be able to lift or do heavy chores.
Make sure you don't eat or drink anything after midnight on the evening before your buttock augmentation procedure.
Avoid using cream or lotions on your skin in the derriere because it will block pores.
Wear something comfortable that can be easily slipped on and off. Avoid anything with buttons, zippers or that is too tight. Sweatpants, leggings, skirts or shorts will be best.
Combining buttock augmentation with other procedures
Sometimes buttock augmentation surgery can be combined with other cosmetic procedures, such as part of a body-sculpting package or in conjunction with anabdominoplasty (tummy tuck). If you want to combine procedures to save time, money and to heal all at once instead of in intervals, this might be a good option for you. Some other surgeries you can consider are:
You must discuss with Dr. Frank Agullo to see if it is feasible to combine other procedures for your body shape, size, budget and other considerations. Combining procedures often results in an overall improved body contour, decreased cost when compared to doing the procedures separately, and the advantage of only having one recovery period.
Recovery from buttock augmentation
After the buttock augmentation, you will need to wear a special compression garment that is designed to keep everything "tight" and help it heal properly. A partial absorption of fat that was transferred will settle after about three weeks. You should wait at least three months to decide whether future grafting is needed or if you are satisfied with the full effects. Try to sit as infrequently as possible for the first few weeks to reduce absorption and soreness to your buttocks.
Other things to know about recovering from butt augmentation:
Recovering from buttock augmentation requires mostly laying down or standing for at least a couple of weeks after the surgery. You won't be able to sit down right away and may feel sore or tender when you do.
After two weeks you should be able to resume work and normal activities.
You should walk around some to avoid blood clots; however you should avoid major exercise for at least a month.
Tell your doctor about any chest pain, abnormalities in heart rate, pain, or shortness of breath.
Don't take any aspirin.
Rest assured, after a couple of months, you'll be feeling better and wanting to go out to buy a new bathing suit and clothes that show off that rounder, fuller backside you've been longing to have for so long!
Are there risks with a butt lift?
Buttock augmentation procedures have a relatively low risk for complications.
Risks of buttock augmentation surgery may be:
Painful sitting
Infection
Bleeding or general anesthesia risks
Having to revise the buttock augmentation
Cost of buttock augmentation in El Paso
Some buttock augmentations can be done with fat injections from one's own liposuction procedure, but in slimmer patients they may need butt implants. Therefore, the cost can greatly vary. Other considerations are the time it takes to achieve the liposculpture, prepare the injections and then inject the fat into the buttocks. At Dr. Frank Agullo's plastic surgery facility, the average cost for a Brazilian Butt Lift is about $5,000 – $8,000 depending on the areas of liposuction. The cost may vary if other procedures are necessary or with different combinations with other body contouring surgeries.
Get head-turning glances with El Paso butt augmentation!
Schedule a consultation to see if you are a good candidate today.