October 31, 2016 | Brazilian Butt Lift, Butt Implant, Buttock Augmentation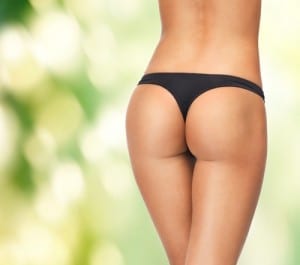 I was recently interviewed by NewBeauty Magazine in regards to a new procedure that is known as Internal Spanx Surgery for the buttock. It was developed in Brazil and involves using Polytetrafluoroethylene mesh to lift the butt area. Currently, the procedure is being performed in Brazil and Portugal. You can read the full article in the NewBeauty blog. Here are the questions I was asked:
1.     Is Polytetrafluoroethylene mesh safe to use in the buttock area?
There's not enough data or long term follow up to say that the use of the mesh in the buttocks is safe. This is a new procedure. Although, there have been case reports of the use of mesh and even threads in the past to provide a less invasive buttock lift.
Mesh has been successfully used by others and myself to provide an internal silk bra (I have presented this in the past and will be presenting it in Japan next Wednesday at the ISAPS, International Society of Aesthetic Plastic Surgery, Meeting) with little if any complications. It has also been used safely in the abdomen to provide a permanent internal girdle during tummy tucks.
2.     What are some risks associated with a procedure like this?
The most concerning risk is that the mesh can become infected, which would require removal. Other concerns would be technique specific: asymmetry and palpability of the mesh.
3.     Are there any limitations or drawbacks to having a procedure like this instead of a Brazilian butt lift or butt implants?
Each of the procedures you mention is indicated for different purposes. I believe each procedure may have its place for individual patients. This Internal Spanx procedure seems to provide a means to achieve a less invasive lift with mesh. It would likely be indicated in a thin patient with some buttock ptosis (drooping) but no excess skin, and no desire for increased fullness.
A more traditional buttock lift entails an incision similar to a g-string above the buttocks, which removes excess skin and even fills the buttocks using the patient's own tissue.
For the patient looking for accentuated hips and buttock the likes of Kim Kardashian, Jennifer Lopez or Nicki Minaj, you have to introduce volume which can only be achieved with fat transfer to the buttocks (Brazilian butt lift) or implants. The added benefit of a BBL is that the fat is removed from unwanted areas to create a small waist and transition to buttocks and hips. In thin patients without excess fatty deposits, the only option is to use implants.
4.     What are your thoughts about the safety and effectiveness of this procedure?
The use of the Polytetrafluoroethylene mesh is off-label in the United States. Since it is a new procedure, long-term data and results are necessary to comment on the safety. It is always fascinating to see new procedures and techniques developed!
5.     What would you recommend to a patient who was considering this procedure?
Seek a board certified plastic surgeon specializing in buttock procedures to consult on which procedure is ideal for you. Many surgeons discourage patients from bringing wish pictures, but for the buttocks, this is one of the best ways to convey what you want.
#StayBeautiful,
Frank Agullo, MD
@RealDrWorldWide ???