March 11, 2016 | Body Contouring, Liposuction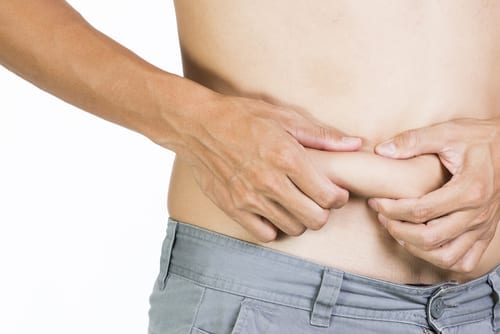 Ask anyone and they will tell you how much they hate their love handles, aka "muffin tops." In a survey of 500 individuals, love handles were the one thing that was most frequently identified as to what people wanted to change about their bodies if they ever got plastic surgery.
And we're not just talking women; this is a trend growing with men as well. Men that desire a more streamlined silhouette can easily do so with elective body contouring surgeries. Body contouring refers to reshaping different areas, such as, the gut and waistline, and is ranked right behind injectable treatments (like Botox) in terms of demand for male treatments
It Began with Boardshorts
Men looking into body contouring procedures are typically interested in wearing form-fitting clothes while avoiding the belly bulge. This which be more difficult for men past the age of 30.
That's why a fellow plastic surgeon in Beverly Hills developed the extremely successful procedure known as "the boardshort tuck."
Like a tummy tuck, a boardshort tuck removes excess tissue, like skin and fat. But unlike common tummy tucks, this procedure is less intensive and takes less time to recover. It's a process that takes about an hour and a half at our El Paso office, with general anesthesia.
Total cost of a boardshort tuck runs about $7500 for most patients. An incision is made above the pubic area, and while the extra tissue is removed, this procedure tightens stomach muscles. The final outcome is a firmer and flatter stomach which can draw more attention to other areas, which now seem larger because they is no longer vying for any distraction of the previous belly bulge.
Choosing the Right Option
Men everywhere across the U.S. are looking for a trimmed shape, and while "boardshort tuck" is a West Coast original term, these requests are found throughout the entire US – including here in El Paso!
Once men turn 30, it becomes more challenging for them to maintain physique. For our male patients who want to wear form fitting shirts without pushing out the bottom buttons or having their gut hang over their pants' top seam, Southwest Plastic Surgery can easily help.
The methods we offer to fight against the bulge aren't limited to the board short tuck. In reality, high definition liposuction for men is one of the most popular requests from males in our plastic surgery  office.
Another example of a popular trend for men is the Vanquish fat removal system. This is a fat burning process that takes about 4 sessions to complete, with no incisions or medication necessary. Designed specifically for the back, love handles/sides, and belly areas, Vanquish is an excellent solution for men who already eat healthy and exercise regularly, but can't seem to get rid of their "spare tire". There is an obvious reduction of fat, with typical loss of several inches after all sessions are completed.
Current Perception of Men's Cosmetic Surgeries
Any of these treatments will ultimately reach the same target area by shaping the body away from a bugle. While men would have been more wary to ask for any of these procedures less than a decade ago, it's becoming increasingly common here in El Paso, as well as throughout the rest of our society. At Southwest Plastic Surgery, Dr. Agullo is there to honor any man's cosmetic strategy request. The desire to be accepted and feel good is universal; it's not limited just to women!
To contact the office of Dr. Agullo, you schedule a consultation by calling (915) 590-7900 or by filling out our online contact form.